Certified RV Service Centers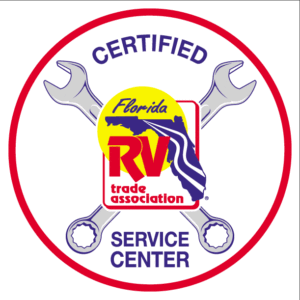 The Florida RV Trade Association (FRVTA) announced the creation of the Certified RV Service Center Program.
The purpose of the program is to increase professionalism in the dealerships and service centers in Florida. With many technicians now certified through the Distance Learning Network, this was an obvious next step.
The criteria to qualify are fairly basic and most dealers and service centers should meet these minimum standards:
Be an FRVTA member in good standing and adhere to the FRVTA Code of Ethics.
Have at least one RVIA Master Certified Technician employed.
Have at least 80% of Service Technicians currently RVIA certified or in training for certification.
Maintain a current Florida Propane Repair License and employ at least one qualifier.
Have a permanent service facility.
Provide outside service to general drive-in public and non-warranty customers.
Maintain a parts inventory to support warranty and non-warranty service.
Have a Customer Satisfaction Index (CSI) in place.
Complete the RV Service Center Application and return if to FRVTA. Once the applications are submitted and an FRVTA representative has inspected the business, the certification will be awarded. Businesses will be given decals that recognize them as FRVTA Certified Service Centers will receive special recognition in the annual FRVTA Membership Directory and on our web site. Certification will be valid for two years and will be renewed upon revalidation of criteria.
For more information about the FRVTA Certified RV Service Center Program, contact the FRVTA State Office at (813) 741-0488.