10 Tips for Being a Thrifty RVer (And No, You Don't Have to Give Up Good Toilet Paper)
RVing is a great way to see the world as frugally as possible. Plus, it's the only form of travel with the added bonus of bringing your whole home with you. But like most areas of life, it's possible to waste money — or at least not spend as wisely as possible — while RVing.
We want you to get the best RV trip possible for your hard-earned money. That's why we've gathered this list of ten tips that'll totally change your RVing game, keeping your wallet fat without sacrificing fun.
Want to Save Money While RVing? It's All About Strategy
The key to a frugal RV trip — and the best advice you'll get in this whole article — comes down to just one little word…
Planning.
If you take the time to plan your trip up front, you'll be in an excellent position to save money at every single turn.
Here's a breakdown of concrete ways to save money on your next RV journey.
1. Choose your destination(s) wisely.
It almost goes without saying that some destinations are more costly than others. Everyone wants to go to Malibu and Miami for a reason. Those expensive destinations do have a lot to offer.
But so do more affordable ones. Bonus: You'll deal with way fewer crowds!
U.S. News ranks inexpensive American travel destinations regularly, and Yellowstone — a classic RV adventure — tops the list. More of a city mouse? Check out New Orleans, San Antonio or Seattle. All three balance urban life with a range of fun, outdoorsy pursuits.
2. Get the right rig for the job.
Do you really need a Class A diesel motorhome with four slide-outs and a disco ball, or will a more modest Class C do the trick? What about a pop-up trailer?
No matter what camping setup you choose, make sure it's high quality. Sure, it might not be the least expensive mobile home on the lot, but you'll thank yourself a few years from now when everything's still running smoothly… meanwhile, your discount-camper friend has spent thousands on repairs.
You also want to make sure you're outfitted for whatever kind of weather you're traveling into, especially if you're headed north. Do you need snow tires and chains? Have you winterized your water system? These upfront costs could save you a ton of dough, not to mention a winter weather catastrophe that's inconvenient at best and deadly at worst.
Not an RV owner? If you're renting your rig, check out the peer-to-peer market. Just like Airbnb and Uber, sharing economy programs exist to help you rent RVs from private lenders. Privately-owned rentals tend to be much more affordable — not to mention homier and full of character. RVShare is the largest of these marketplaces around today, and its prices start as low as $10 a day. You won't find that figure at any big box rental center I know of!
3. Look for public campgrounds.
State and National parks nearly always have better nightly camping rates than their privately-owned counterparts. After all, they're in it to preserve our wildlife, not make a profit.
You might have to deal with fewer amenities, but you'll be closer to nature. And that is one of the most important points of camping, isn't it?
(Psst — if you visit National Parks often, go ahead and go in for the annual pass! For just $80, you'll get the whole family into every single National Park in the country for free. Considering it's $30 just to get into Yellowstone, that's a heck of a deal.)
4. Stay longer.
Just like buying in bulk at Costco or BJs, most campgrounds offer better nightly rates to campers planning to stay a while. So if there's a destination you really want to get a feel for, consider extending your weekend to a week — heck, maybe even a month, if you can swing it!
5. Consider boondocking.
"Boondocking," or camping without a hookup, is an excellent way to save money — because in almost every single case, it's totally free.
Yes, you'll spend some money on propane if you want to run your generator, and yes, you'll need to keep an eye on your fresh water level.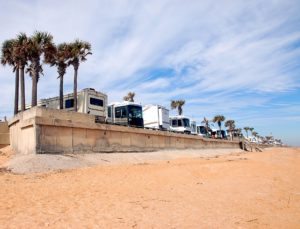 Skipping the nightly campground fee can save you hundreds of dollars over the course of a long trip, even if you usually stay at the most affordable campsites. And, hey — knowing every bit of electricity you're using is costing you money might incentivize you to get outside!
Even if boondocking at your destination just isn't your style, you can still take advantage of this tactic en route to your final destination by spending one-off nights in Walmart parking lots or overnight-friendly rest stations. If you're only stopping to sleep, why spend the money on the campground amenities you won't even have a chance to use?
6. Do free activities.
Almost every city offers a host of fun, free activities the whole family can participate in, from live music in public parks to weekend art walks. And with the magic of the internet, finding out exactly what's going on around town is easier than ever.

Take advantage of free activities at your destination(s), including at the campground itself! If you're going to spend money on camping somewhere, you might as well take advantage of the amenities. Besides — if the ice cream social turns out to be lame, you can always leave.
7. Join the club!
Never be afraid of a good discount.
Join discount clubs for campers like Good Sam, Passport America and Escapees can save you cash on everything from fuel to pet food, to say nothing of free and discounted campsites, making them well worth their usually-paltry membership fee. You'll also gain access to a community of RVers like you, who can provide both advice and companionship.
You can also find programs like Harvest Hosts, which allows self-contained campers to stay overnight for free at select wineries and farms throughout the U.S. Talk about a unique — and tasty — experience!
8. Take advantage of your fridge.
This one's pretty simple: Eat at home, and if you're going to be out all day, pack a lunch. You brought your kitchen with you, after all!
This isn't to say you shouldn't check out that can't-miss restaurant at your destination. If you've been dreaming of a special meal at a joint with rave reviews, treat yourself! But by reducing food costs whenever possible, you'll have even more money for those splurges. And trust me — the gas station snacks are not worth your money, even if it's just five or ten dollars.
9. Maintenance is everything.
Keep up with routine maintenance, like rotating and replacing your tires. And if you see anything out of order, no matter how small, nip it in the bud as soon as possible! Mechanical problems rarely fix themselves.
If you do have an issue, consider giving the DIY route a try if you're halfway handy — or think you could get there, with the help of Google. The least expensive repair bill is one that doesn't exist!
10. Make your camper earn its keep.
If you're not a full-time camper, you know the pain of watching your rig sit empty.
But those peer-to-peer RV rentals work both ways. The average RV owner who lists their rig on RVShare reports making $10,000 a year in extra cash — just by renting their RV to trustworthy people when would otherwise be collecting dust. Not bad, right?
No matter where your adventures take you, these tips should help you save some extra cash… so you can afford to go on another new journey!
What are your best tips for saving money while camping?