Advertising
Advertising Opportunities
As an FRVTA member you and your business are eligible to advertise in all FRVTA publications and on the official website at the Membership Rate.
On-Line Website Advertising Application
DEADLINES
| RVers Guide | SuperShow Program |
| --- | --- |
| Space: Nov. 6, 2023 | Space: Dec. 4, 2023 |
| Material: Nov. 14, 2023 | Material: Dec. 12, 2023 |
CONTACTS
| Advertising Sales Inquiries | Advertising Submission Inquiries |
| --- | --- |
| Deanna Pearce | Ashley Hallmark |
| FRVTA.org | Phoenix Graphics |
| Office: (863) 318-0193 | Office: (863) 294-7083 |
| Cell: (863) 412-5795 | www.pxgx.com |
| Email: dlpearce7@gmail.com | Email: ashley@pxgx.com |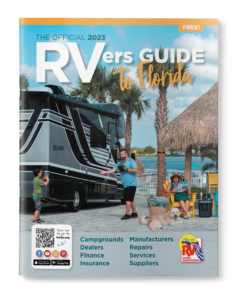 Official RVers Guide to Florida:
The Association annually publishes the Official RVers Guide to Florida, a membership directory that offers numerous opportunities for members to advertise. The circulation is now upwards of 120,000 copies per year.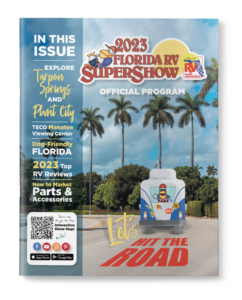 The SuperShow Directory:
In conjunction with the annual Florida RV SuperShow, members are also offered the option of advertising in The SuperShow Directory, whether they participate in the show or not. More than 32,000 are published and is passed out to the attendees of the SuperShow each year.
DOWNLOAD DIRECTORY or VIEW ONLINE
Print Advertising Requirements
Images
Resolution for all images is 300 dpi. Lower resolutions will result in poor quality. Artwork enlarged over 100% may result in an effective resolution of less than 300 dpi. All image files should be in high-resolution PDF format. We discourage submission of JPEG, GIF, BMP, and PICT images as these will result in lower image quality. Avoid artwork taken from the Internet, it is typically 72-96 dpi and is unsuitable for print. All files must be built at 300 dpi or higher.
Color
All full color ad must be in CMYK format. Any RGB and/or Pantone colors will be converted. We cannot guarantee color accuracy for converted images. All black and white ads must be in grayscale or bit-mapped formats. Any color found in black and white ads will be converted.
Fonts
All fonts must be outlined or embedded within your high-resolution PDF.
Ad Submission
Final ad files should be supplied as high-resolution PDF (PDF/X-1a compliant). We accept digital files using these methods:
• Please email ashley@pxgx.com for DropBox link.
• You will receive a "SHARE" email from DropBox.
• Just drag and drop your file for upload.
Submit ad to above E-mail: (10MB maximum size)
If you have any questions or have any problems submitting your ad, please contact Phoenix Graphics at (863) 294-7083 or via email.​
| 2-Page Spread* | Full Page* | |
| --- | --- | --- |
| | | |
| Half Page Horz | QTR Page Vert | |
| | | |
*2-Page spread and full pages are in a bleed position. Be sure to stay within live area when including copy. Save with bleed but NO crop or trim marks.
---
---