Recap of the 2020 Jacksonville RV Mega Show
As the Jacksonville RV Mega Show is the largest RV Show of the year in Northeast Florida, I was excited to see what happens behind the scenes when setting up for the public.
When you first walk through the ticket gates at the show, you walk through the vendor booth area.  24 hours before the show started and the tables were set up but no action yet.
I arrived the morning before the show started when most of the RVs were already staged, however, so I missed the complexity of laying out the show. From my understanding, the show coordinator physically walks the large empty lot with a measuring wheel to mark off each dealer's space. The dealers configure their own layout within the space but have to follow very strict guidelines concerning minute details such as the size of the walkway and traffic flow throughout the show.
After the RVs are parked, it is time to start laying carpet throughout the show.  This is a major undertaking as the rolls of carpet are very heavy and huge and the area to cover is immense. After the carpets are laid, slides are extended and the detail crew gets to work vacuuming and cleaning the RVs.  With hundreds of units on the property, this was a major event.
Meanwhile in other parts of the show, dealers were setting up their tents….
And getting ready to hang their signs….
The region provided a vendor appreciation lunch which was great! Grilled hamburgers and hot dogs, french fries, tater tots, pasta salad, fresh fruit, cookies, and brownies. All the food was great and a welcome break in a busy day!
After lunch, I checked on the vendors and am starting to see more action!
Back outside, they have finished laying out and vacuuming the carpet…
And are finishing setups on the smaller RVs that were brought in last.
Whew… it's the end of a busy day and ready for the gates to open in the morning!
All the hard work paid off! There was a line at the gate on opening day and vendor hall was packed as they walked in!
And out on the lot, there were happy RVers everywhere checking out the coolest new RVs.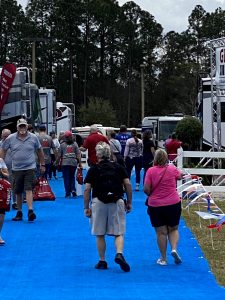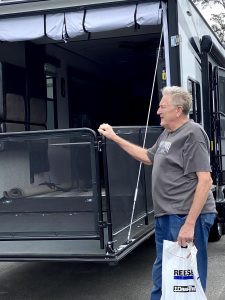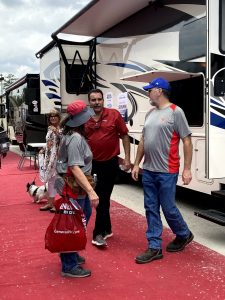 Setting up a multi-dealer RV show like this is obviously a ton of work.  There were literally hundreds of people here frantically working to make this show a success.
If you missed the 2020 RV Mega Show this year, stay tuned for the next one! And please, take the time to watch the video below, click like, and subscribe to our YouTube channel! Thank you!