5 Fun Camping Games
Camping games are a great way to unplug from technology and spend quality time outdoors with the family. Whether in a campground, on a beach or even camping in your backyard, here are some of our favorite games to relax and get your game on!
Hula Hoop Competition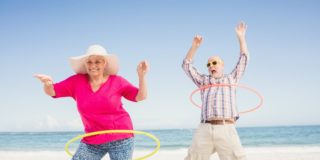 Time to swing those hips; give each player a hula hoop and countdown to fun!  Very simple rules – if the hoop drops to the ground you are out.  The player who keeps their hoop in the air the longest is the winner!
Scavenger Hunt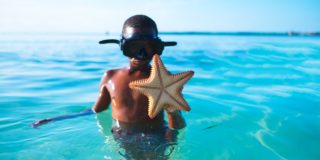 Put those paper grocery bags piling up in the kitchen to good use on your next camping trip! Write a list of items that can be found around the campground or beach on the outside of the bag with a marker.  Make sure to include a variety of easy, hard and epic items to keep the game challenging. Older scavengers enjoy creative items like 'an object with 5 points which could be a starfish at the beach or a leaf in the forest! Let the hunt begin!
Glow in the Dark Capture the Flag
The classic Capture the Flag game takes on a new twist when played at night with glow toys.  Form two teams, establish territories for both, mark the center line between the territories and setup two zones as 'jails' for each team.  Give each player a glow in the dark necklace or bracelet and a glow stick or ball which is their 'flag'. Each team hides their flag in their territory making sure that the flag is partially visible and not impossible to retrieve; after the flag has been set, it can't be moved.  The goal is to grab the other team's flag and bring it back to your zone.  If you catch an opposing team's player in your territory, you can tag them to imprison them in your territories' jail.  If one of their teammates touches their hand, they are released from prison. If you love the game and play often, Redux makes a great kit with everything that you need for numerous nights of team fun!
Glow in the Dark Bowling
After enjoying an energetic game of Glow in the Dark Capture the Flag, wind down and reuse your glow sticks with a little nighttime bowling! You will need clear plastic water bottles of the same size with the labels removed (reuse the water bottles that you guzzled down during Capture the Flag,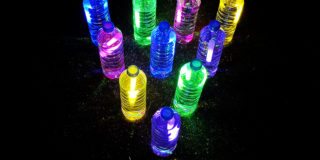 simply refill), 10 glow sticks in a variety of colors and a hard ball like a soccer or basketball.  Simply drop a glow stick in each water bottle, setup your 'pins' and prepare for some fun!
What are you families favorite camping games? Please share!