Alafia River State Park
While most of central Florida seems to share the same flat landscape, the Alafia River State Park stands out. With some of the most extreme elevation changes in the state of Florida, this reclaimed phosphate mine offers a variety of opportunities for you to enjoy during your visit. The park is so much more than your average outdoor destination though.
Mountain Biking
This state park is a hot spot destination for mountain bikers. The elevation changes and rough terrain make it an exciting and unique place to go for one wild bike ride. Helmets are required on the park's twenty-five miles of bike trails, and the park's full service bike shop makes sure to have bikes for rent if you want to try your hand at one of the more beginner paths during your visit.
Horseback Riding
With twenty miles of hilly trails to explore, the state park is an excellent place to go for a leisurely ride on horseback. Equestrians can enjoy scenic forests and flatwoods on the trails, and find themselves along some of the lakes within the park. This state park is a tranquil and awe inspiring place to explore, and riding can add to the magic. Twelve of the parks campsites are equipped for equestrian visitors, and there is a twelve stall horse barn available to visitors for no extra charge.
Hiking and Fishing
Sometimes, you just can't beat the classics. You don't need a fancy mountain bike or a horse to enjoys the trails and natural beauty of this state park. It can be just as rewarding to set out on your own two legs and wander the park. With trails shared with both horseback riders and bicyclists, a hike can have an extra bit of excitement if you're not keeping your wits about you. You will definitely want to have a fishing license on you if you want to take advantage of the lakes and rivers in the park that are available to be fished. Bass, bluegill and catfish are among the common catches made in the park, and catch and release is strongly recommended for Large Mouth Bass. Pay close attention to regulations regarding size, number, method of capture and season and make sure that you respect the rules.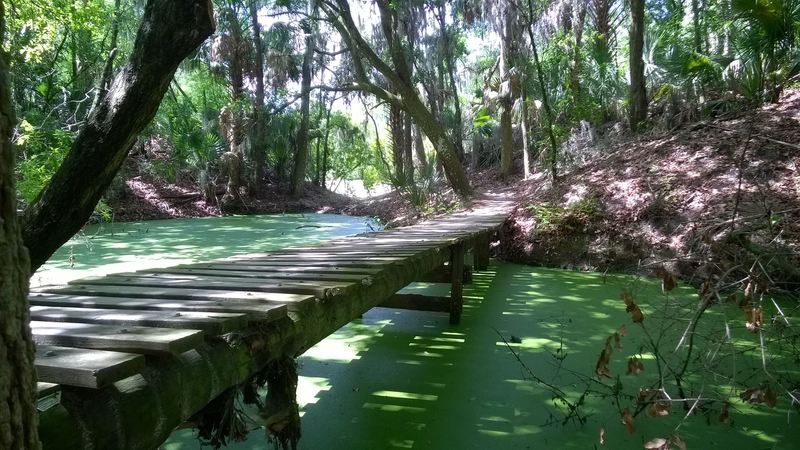 Birding And Wildlife Viewing
As you wander the trails and lake sides in the park, keep an eye out for the natural fauna of the region. Not only does the park capture the eye with a fascinating landscape, it provides ample opportunity to catch sight of a variety of wildlife – especially birds. Birding is an incredibly popular hobby and this park is a fantastic year round destination for a variety of birds. If you plan on spending the night in the park, don't be surprised if you hear the call of a Barred Owl cutting through the night. Songbirds and birds of prey alike dot the trees and skies in this state park, and overall it becomes a bird lover's haven.
Boating
Fishing isn't the only way to get out on the lake. While the waterways of the park are restricted to small boats, kayaks, and canoes, that is more than enough opportunity to find yourself on the lakes and rivers with a unique view of the park's landscape. The park currently does not offer kayak or canoe rentals, but that will likely change in the near future with how popular and activity it has become.
Geocaching
Geocaching is a sort of high tech treasure hunt that makes use of handheld GPS devices. Participants use location coordinates to find caches which can range from easy to find to incredibly difficult. Geocaching is a fun and interactive way to learn geography and explore the world around you, but should always respect the environment first and foremost. When it comes to Geocaching, it's not the 'treasure' cache that's the point, but the thrill of the hunt.
RV Camping
If RV Camping is your idea of a good time, then this state park has got you covered. You can take advantage of everything Alafia River State Park has to offer by parking your RV at the full facility campground and letting yourself get cozy for a weekend in the fantastic wonder of the state park. Hike, fish, bike, or jump on a horse and take a ride across multiple trails and days, or embrace the opportunity to do a bit of everything by allowing yourself to stay for longer than a day trip with the help of your RV.
For more information, visit the Alafia River State Park website or call 813.672.5320.