Benefits of a Class A RV
If you live on the East Coast, Florida is the place to RV for the winter. Warm, balmy weather and, depending on where you park, fabulous, tropical ocean views. If you're just getting into the RV lifestyle, you might be wondering, should I go with a trailer or a 5th wheel? Or a van? Or maybe a Class C or a Class A motorhome?
While any type of RV can be a good choice, let's explore the benefits of a Class A motorhome.
Benefits of a Class A RV
While many people shy away from this style of RV because they're afraid to drive it or park it, it actually has many benefits.
Among the RV tips, this type of RV has more room inside; even if you buy a smaller Class A, let's say, 25-28 feet long, it will have more room inside than a comparable Class C. This is because the cockpit area is included in the living space. You can use this space as additional seating or storage when you're not driving. The extra room is important if you're planning to live full time in your rig or wintering in Florida.
Having the cockpit within the living area also means it's easier to move about. You won't have to duck or climb over the doghouse to get into the living space.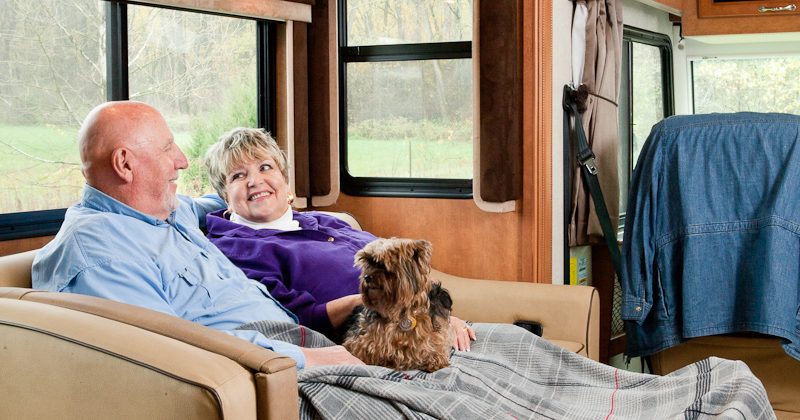 Also, this type of motorhome has more storage overall than any other type of RV. More interior cabinets, more exterior storage, more storage all around. If you're planning to snowbird in Florida or possibly live full time in your RV, you will need to bring along enough stuff to fully live and enjoy life.
The expansive windshield is another surprising advantage; while it can get hot if it's facing west or south, it will also give you a fabulous view. Imagine you're parked along the Florida coast, with a picture window view of the ocean. Isn't that what you want, to really experience the beauty of what Florida has to offer?
The large windshield also gives you superior visibility while on the road. You'll get a clear view to the right, left and straight ahead.
While Class A's come in a wide range of prices and styles, they're often considered to be higher quality compared to other RVs. Also, since many fledgling RVers shy away from this type of motorhome, instead choosing a Class C or B, you can often get a good deal on a used Class A.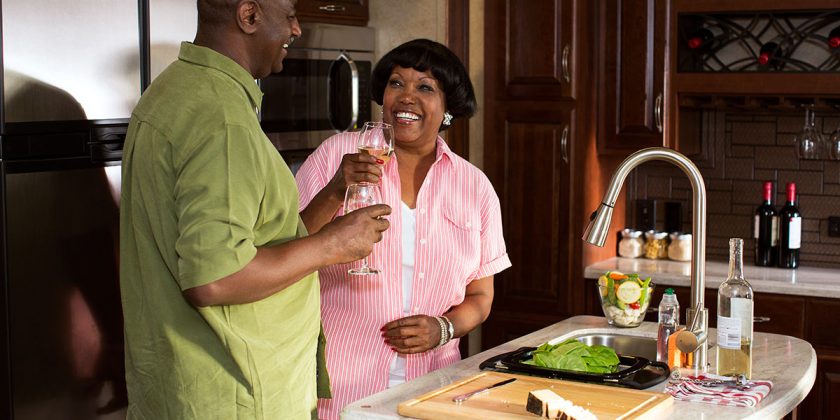 That higher quality also includes a bigger kitchen.  If you're planning on living in your rig for long periods of time, a full-size refrigerator and stove, as well as plenty of cabinet space can be an attractive option. If you are more of a weekend warrior but want to bring the whole gang, the large kitchen and family room area is perfect for the crew to spend time together.
Exterior Benefits
A diesel-pusher Class A motorhome is also very powerful if you are towing a car or a boat. A diesel-pusher will also get you over the steep mountain grades out West or other mountainous areas with ease. Finally, diesel engines get better gas mileage and have a longer life compared to a gas engine. Be prepared to pay more for a diesel, however, but if you are planning on putting a lot of miles on your RV, you may want to consider the upgrade.
Compared to a Class C or B, this type of motorhome is more likely to come with automatic levelers. That means you can just push a button to get level, and won't have to drive it up on blocks.
Class C's are at risk for developing cab-over leaks which is not a problem with a Class A and it's one-piece construction.
Finally, a Class A isn't as hard to drive as you might think. That's especially true if you choose a smaller model. It's just a matter of getting used to it.
If you are planning on spending the winter in Florida, you should consider snowbirding in style and comfort, with a Class A RV.