Big Cypress National Preserve
One of the best ways to truly enjoy the outdoors is to go camping in your RV, and one of the best destinations for avid RVers is Florida. The Sunshine State is full of amazing sites and provides a variety of opportunities to explore and enjoy all this great state has to offer. If you want to experience indigenous wildlife in natural surroundings while also enjoying all the perks camping has to offer, you must consider a trip to Big Cypress National Preserve.
A combination of preservation and outdoor fun
Founded in 1974, Big Cypress National Preserve was the first national preserve to be established in the U.S. Spanning 729,000 acres, Big Cypress is home to a variety of animals, including panthers and alligators. Additionally, the diverse ecosystem of the fresh-water swamp also provides a complex habitat for a variety of wildlife.
Big Cypress offers visitors more than just outdoor activities. For instance, the preserve is home to the Seminole and Miccosukee tribes, allowing visitors to learn their rich heritage.
A variety of things to do
In addition to taking in all of the natural beauty this preserve has to offer, the hundreds of miles of multi-use trails allow for numerous opportunities to explore Big Cypress via such activities as biking, hiking, and bird watching. Alternatively, if you enjoy hunting, you can bag a whitetail deer, turkey, or feral hog. Fishing and frogging are also common activities. Of course, you should be sure to obtain the correct license or permit before enjoying these activities.
If exploring remote areas is your thing, you will enjoy the ability to utilize off-road vehicles, such as airboats and swamp buggies, to reach areas of the preserve that are otherwise nearly impossible to reach on foot. However, it is important to be aware that vehicle inspections and permits are required before utilizing the preserve's extensive network of off-road vehicle trails.
Local attractions
Although you would be hard-pressed to exhaust all of the activities Big Cypress has to offer, there are a variety of things to do nearby.
HP Williams Roadside Park
Located just south of the national preserve, HP Williams Roadside Park boasts a sprawling boardwalk that provides visitors an amazing view of the cypress swamp. Additionally, visitors can enjoy spotting a variety of indigenous wildlife. Of course, this animal life includes alligators, but it also includes egrets, turtles, and hawks.
Fakahatchee Strand Preserve State Park
Home to numerous animal and plant species found only in Florida, Fakahatchee Strand Preserve is the largest state park in Florida. Nestled in a uniquely forested swamp, this park is located just west of Big Cypress National Preserve.
There are four main areas of this park to explore, including the lengthy Big Cypress Bend Boardwalk. A stroll along this walkway winds its visitors through the incredibly pristine section of the swamp and culminates in an observation deck for viewing the ever-exciting alligator pond.
Alternatively, if you are interested in canoeing or kayaking, you should visit the East River or the Jones Grade lakes. Finally, if hiking and biking are your things, Janes Memorial Scenic Drive will not disappoint. For instance, the West Main trail traverses two miles of strand swamp before unfolding into a beautiful marle prairie.
Staying in Big Cypress National Preserve
Big Cypress offers a variety of spots throughout the preserve to enjoy RV camping. In addition to many primitive campsites, some of which allow RV camping, there are two campgrounds that offer RV accommodations.
The first is Monument Lake Campground, which offers 26 RV sites. However, although drinking water and restrooms are provided, there are no hookups for sewer, water, or electricity. Additionally, this campground is open August 15 through April 15 and costs $28 per night. Seniors and those with an access pass can enjoy prices of $14 per night for the length of their stay.
The second site, Midway Campground, is open all year. It offers 26 RV camping sites, and the cost is $30 per night. The slight increase in cost is due to the provision of electric hookups as well as the free use of dump stations. Individuals with an access pass or those enjoying senior status can camp for just $15 per night.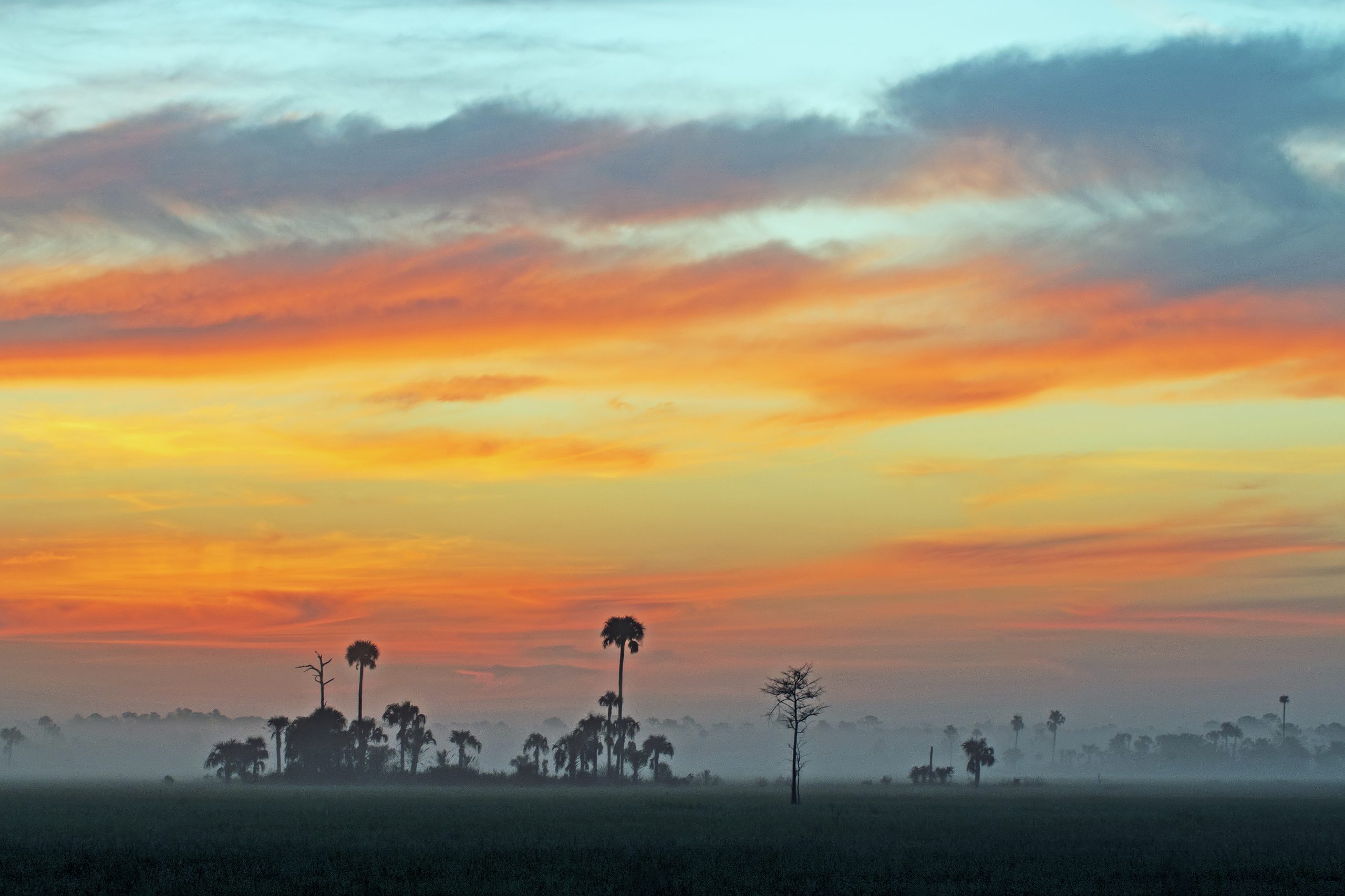 Some tips
Because some campgrounds may close seasonally, it is recommended that you visit the Big Cypress website for up-to-date information. To reserve your site, you can simply visit www.recreation.gov.
If you bring your pet along, you should be sure to keep your furry friend leashed throughout your stay. Additionally, pets are not allowed in the visitor centers, on back-country hiking trails, or on boardwalks.
Finally, the maximum length of stay varies between 10 and 14 days and is based on the campsite choice as well as the time of year. Additionally, camping activity may not exceed 180 days within a 12-month period.
For more information, please visit the Big Cypress National Preserve webpage or call 239.695.2000.