Tips for Choosing Your First RV
Buying your first RV is a momentous occasion and the first step in what becomes a lifelong passion for most. A little self-reflection and pre-planning can help make the shopping process much more efficient and enjoyable.
What type of RV is best for you?
There are many different classes or types of RVs which can be very confusing for RV newbies when trying to decide the best option for you and your family. The first step in determining the best class is to answer the following three questions:
1. What are you going to do with the RV?
This is the first question that you need to ask yourself when preparing to purchase your first RV. A family that is planning on attending motocross rallies with the kids is going to have very different needs than empty-nesters looking to travel the country full-time. As a rule-of-thumb, the more people that will be using the RV or the more time that you are going to spend in you RV, the more storage space and interior space you will need.
2. Do you already own a tow vehicle?
If you already own a pickup or SUV, a fifth wheel or travel trailer is a economical starter camper for you. The first step to identifying the perfect towable RV for you is to determine the maximum towing capacity of your vehicle. Your owner's manual should contain detailed towing information or you can contact the manufacturer for a downloadable copy. After you have familiarized yourself with your vehicle's towing capacity, you need to ensure that you are only looking at trailers and fifth wheels with a Gross Vehicle Weight Rating (GVWR) under your capacity.  GVWR is NOT the advertised weight of the trailer. The GVWR is determined by adding the weight of the trailer plus passengers, food, water in your holding tanks, propane, etc. Before making your final purchase, make sure that you review the tow ratings of your vehicle and the GVWR of your preferred RVs with your dealership to ensure that you are purchasing the best towable RV for you.
3. What is your budget?
Buying a unit that fits your budget is key to having an enjoyable first experience with your new purchase. Don't overextend yourself as you want to have enough left in your budget to add on extra features or customization's to make your new RV perfect for you. Typically towables are going to be more economical than motorized as you aren't paying for the engine components and bigger RVs are generally more expensive than smaller ones.
RV Classes
Truck Camper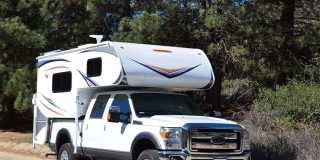 Truck campers slide onto the bed of a full-size pickup and are a great entry-level option if you are looking for a combination of affordability but don't want to have to tow a trailer or fifth wheel. Due to the smaller space, truck campers are typically only a good option for a couple or a single traveler.
Pop-up Travel Trailer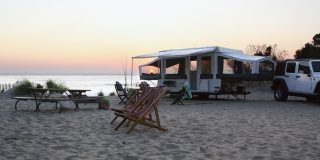 Folding or tent trailers feature a pop-up roof and sides that can be collapsed to create a smaller profile for storing and traveling. The interior space when the unit is setup is quite spacious compared to the size when collapsed. These are a great option for young families looking for an economic alternative to traditional tent camping.
Travel Trailer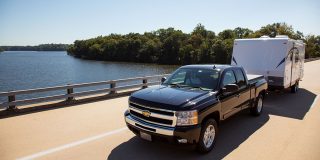 Travel trailers range in size from very tiny ultra-lightweight trailers that can be pulled with a motorcycle to over forty feet of luxury. Typically, travel trailers are the next step up from a folding trailer as far as pricing is concerned but there are certainly high-end models available if you have a larger budget and prefer the travel trailer lifestyle.
Fifth Wheel
Fifth wheels have a gooseneck that attaches directly to a hitch in the bed of your pickup. With the attachment point directly of the center of your truck bed, even a large fifth wheel will track behind your vehicle with minimal sway. These are a great option if you already own a full-size pickup and want a larger towable RV.
Toy Hauler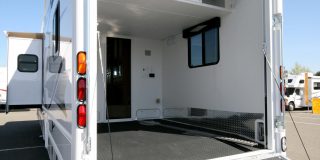 Sport utility vehicles combine the comfort of a travel trailer or fifth wheel with a portable garage to transport your outdoor toys. There are both bumper pull or fifth wheel options available if traveling with your toys is a must.
Class B Motorized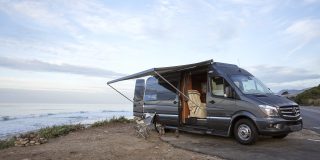 Camper Vans give you all of the necessities of life on the road from comfortable sleeping quarters to a kitchenette and shower built onto a full-sized van chassis. These units are the easiest to maneuver on the road and park in tight quarters and are amazing for quick overnight trips.
Class C Motorized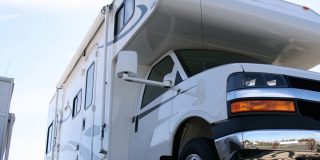 These are a mid-sized RV ranging in size from about twenty to 33 feet built on to a truck or van chassis. They boast a bed above the driver's seat and typically a dinette that makes into another bed so they are a great option for a family or larger group.
Class A Motorized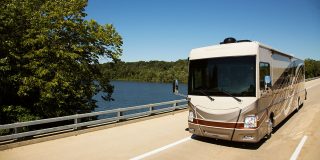 These are the largest of the motorized RVs and feature the most features, interior and storage space. Class A's are a great option for RVers who are wanting to full-time or take extended trips with all of the comforts of home. Class As are typically the most expensive new options depending on the model.