How to Clean and Organize A Tiny RV Bathroom
One of the main concerns for prospective full-time RV-ers is the bathroom, and understandably so. I had my own reservations about it as well, even after viewing my fair share of fun informational vlogs about how simple it can be to keep such a small place clean and smelling amazing. Through plenty of our own experiences, positive as well as negative, we have found some extremely useful tips and tricks to keep the place smelling fresh and clean!
First off, I've found that it's imperative that you don't drive around when your tanks are full, or even mostly full! I'm not going to go into any unnecessary details, but if you don't want your portable home to smell like a portable potty, just don't do it.
Also, using holding tank deodorants is essential. You can buy them at Walmart or pretty much any camping stores, and there are lots of brands to choose from. They look like dish detergent packs, but I wouldn't use these to wash your dishes! You just drop one into your toilet after emptying your tanks and let the water run from the toilet into the tank for a minute. Don't ever leave your tank completely dry and empty! That is another issue that can cause a bit of a stink in your home.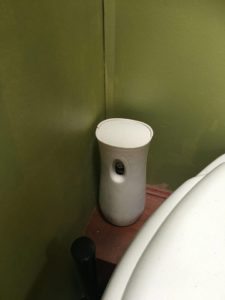 Recently, we discovered the magic of the Airwick freshmatic ultra. If there were ever a perfect item for an RV owner. This would be it. It's a battery-operated, automatic air freshener! You can set it to whatever intensity you would like and just let it sit in there. No plugging in, no hassle. It does the work for you! I would recommend mounting it on the wall in a place where it isn't spraying on objects like toothbrushes (we learned firsthand how important that is) or toilet paper. It keeps your bathroom fresh for it. We love it!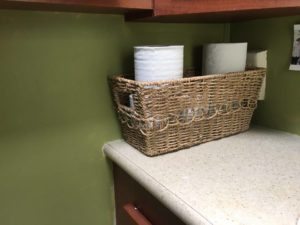 Now keeping things organized is going to look different for everyone. Some people have different amenities, and some people don't want to have all of their toilet paper on display in a cute little basket (like we do), but one rule applies to everyone; baskets. Baskets baskets baskets! We use a plastic shower basket to keep our shampoo inside so it doesn't fly around, one for our toilet paper, and we're in the market for tiny baskets for our supplements, make up, skin care products, etc. baskets don't work for every part of your RV, but they're a lifesaver when you're organizing your tiny, moving bathroom. Velcro is another life-saver. We use it to keep our toothbrush holders and soap dispensers in place, so the bathroom always feels homey, even when we're driving.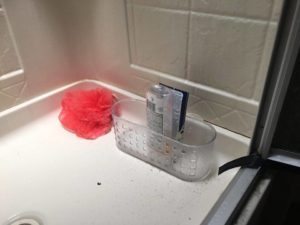 Lastly, just keep things clean. I can't stress enough how important it is to make sure that such a tiny space stays tidy. Wiping down counters and cleaning the toilet regularly makes all the difference, and it's not like it takes a long time! Just put things back when you're done with them. My mom always said "clean as you go!" And it has helped us stay sane and loving the small place we live in. Don't be afraid to label your baskets so you know what's in them, maybe people will think you're a crazy label lady, but it's just because they're jealous that you're so organized!
I hope we were able to give you some helpful tips today that make the bathroom aspect of living on the road a little less scary. Safe travels! We'll see you soon.