Colt Creek State Park
Colt Creek State Park is between Orlando and Tampa in Central Florida. This park offers day visitors and campers of all stripes plenty of options for a fun break from northern cold. For best enjoyment, bring your binoculars, hiking shoes and a bike or two. There are also equestrian trails to enjoy.
Wild Experiences
Your trip to Colt Creek State Park will put you just south of the Green Swamp Wildlife Management Area. The park covers over 5,000 acres with more to explore as you head north. There are spots for fishermen to cast out a line, but makes sure you have the proper licensing before you get to the water.
Finally, be ready for a lot of stillness. If you have binoculars and a birding book, find a spot to sit and enjoy the more than 150 bird species that either visit or reside in the area. If you can truly settle in, you can celebrate the nearly 80 species of butterfly that also reside in the area.
Biking and Hiking
Florida may be known as the sunshine state, but you'll notice plenty of rain as well. It's a tropical climate near a wildlife preserve, so keep an eye out for critters on the ground as well as watching the birds and butterflies. If you're bringing a bike, consider putting on the fattest tires you can fit on your cycle as the mulched trails can get a little deep when the rains have been heavy.
Camping Options
There are plenty of camping options at Colt Creek, including some hike-in primitive camping far from the main action. For those who prefer RV camping, there are 34 hook-up sites with water, as well as a dump station for tanks. Both 30 and 50 amp electrical hookups are also available.
If you or anyone in your group has physical challenges, the Colt Creek facility offers plenty of fun. There's a 75 foot accessible doc for folks who like to fish or who just want to enjoy the fresh air and the water.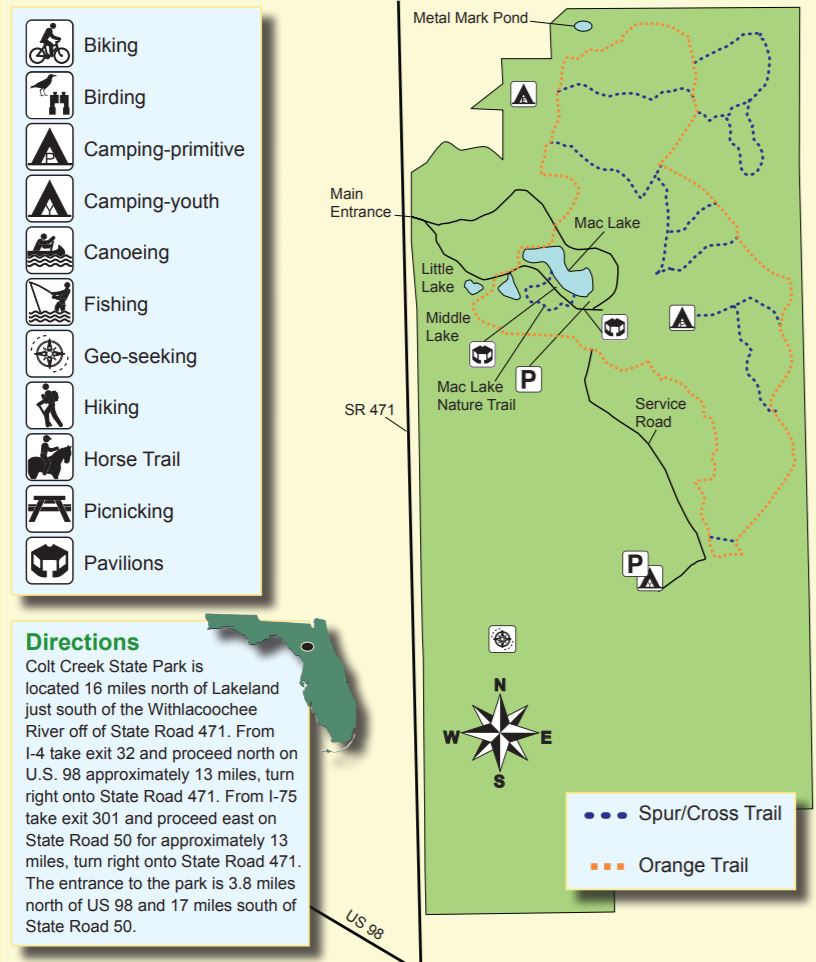 Get On the Water
If you love to be on the water, consider renting a canoe or kayak for a paddle along the miles of shorelines on Mac Lake, Middle Lake or Little Lake. These lakes were at one time limestone quarries and are extremely deep in spots. It's important to note that this park doesn't offer swimming areas, but you are welcome to bring or rent watercraft to enjoy a float or a paddle.
Contribute to Protective Wildlands
The work being done at Colt Creek includes repairing forests and wetlands from erosion and other forms of damage. In addition, this park is home to species under pressure, including the gopher tortoise and the Shermans fox squirrel.
Horses
Hikers and cyclists who've never shared trails near horses will want to pay special attention to their place on the trail. A well-broken trail horse should be friendly enough, but those sharing the trail with them should never rush up behind them, approach them aggressively, or jolt a horse with a loud sound. With the right horses and riders, others sharing the trail with them can learn a lot as they come together on the trail. Please be aware that the State Parks service doesn't provide horses to rent or ride; be respectful of the horses and their owners as you meet them in the trail.
RV camping in Colt Creek State Park will allow you and your fellow travelers the chance to participate in the remarkable beauty of Central Florida. From pine forest to paddling a kayak, visitors to this park will love being part of the ebb and flow of nature. Bring your sturdy shoes and your binoculars as you dig into this region.
For more information visit the Colt Creek State Park webpage on floridastateparks.org or call 863.815.6761.