Cool Gadgets for RVers
With the summer travel season winding down, many travelers have been out camping a number of times already. If you're like me, now is the perfect time to restock the RV and add new items that you may have seen at a campground but didn't know about. Here's my list of camping gadgets to make your life just a bit easier as you head out on your next adventure.
Let's start with the most unpleasant part of RVing is the dumping of the tanks. If you have been RVing long enough, you probably have had some type of black tank disaster. Finally there is a new solution to help with this ongoing chore and minimize the chance of you recreating that famous scene from Robin Williams in the movie RV.
Meet the Waste Master RV Waste Management system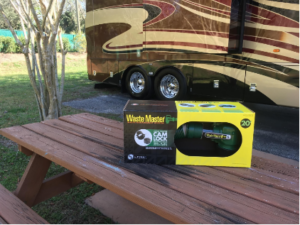 The Waste Master by Lippert Components introduces a brand new leak-proof connection to the RVer.  This time-tested CAM lock connector ensures a leak-proof connection to the sewer outlet. Industrial grade CAM locks have been used for decades and are proven to be strong and reliable. Traditional RV hoses have a bayonet fitting that most of us know will leak over time. The smooth inside of the hose eliminates odor by preventing waste buildup. There is a large heavy, permanently attached nozzle with a clear view section and a shut-off valve. All you need is one black tank scare (click here to read about my recent black tank disaster) and you will be racing off to buy one of these!
Taking showers in RV's leaves much to be desired. You have no control over the water pressure in the campgrounds. But there are measures you can take to give you the best possible shower.  That's why we love our ..  
Jetstorm  shower head –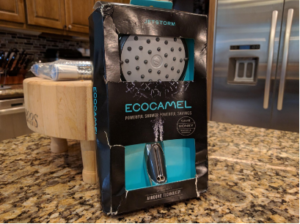 Science is behind Jetstorm's – Aircore Technology. Air is forced into the water stream through a small hole at the base of the handle. When the water and air mix, this mixture spins around at high speed causing turbulence, which increases the pressure inside the showerhead.
This forces the water out of the head with all the power of a conventional shower, but uses considerably less water. Basically, this enables you to have the best possible shower in an RV.
Can cord cutting and RV travel go together? Yes! You will need some type of Internet connect to make this work. While many campgrounds offer free WiFi, it's typically not fast enough to stream video. So many RVers have decided to travel with either smart phones or hotspots. Both these options will allow the user to use their cellular data plans to stream video. Tip: Make sure watch your data usage unless you have one of those unlimited data plans. We've discovered how easy it is to stream movies, Network TV and our favorite shows.  
Streaming sticks
–
Apple TV, Roku, or Amazon Fire stick.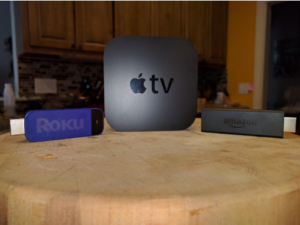 No more DirecTV in the RV! I'm kind of big on options and redundancy. So our RV has all three streaming systems. If you love Apple products, then Apple TV is for you. Android users will find either Roku or Amazon fire stick a better option. All have their advantages and disadvantages. Pick the one that works best for you and stream on!
Skiva AudioFlow BigSound – Bluetooth speaker.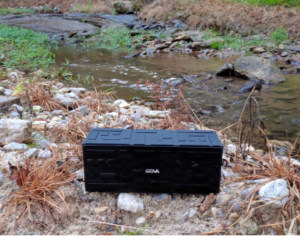 Skiva Bigsound is powerful (15W) compact and portable Bluetooth 4.0 speaker designed for the music lovers to enhance their music experience. BigSound comes with 3000mAh rechargeable Lithium battery, which gives you around 6 hours of playtime.
It pairs easily with Bluetooth enabled devices, NFC, and you can also use a Aux-in cable. The built-in microphone can be used for hands-free speakerphone calling. Don't let its size fool you, this little speaker can pack a punch.
Q2 Tech Smart Lantern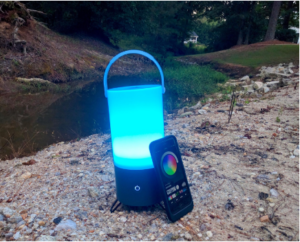 Yes, even the camping lanterns can be high tech. There are a ton of lantern options out there, but the Q2 Tech Smart Lantern only needs batteries, which can last you up to 30 nights on low setting. It's Bluetooth enabled, and controlled through your smartphone (Android and iPhone apps).
With the app you can choose from one of millions of colors, as well as set the lantern to flash or put it in SOS mode in case of trouble. The Q2 boosts an extra benefit of being mini weather station giving you current temp, humidity, and barometric pressure with weather alerts. At 3 lbs it's obviously not for backpacking, but it will be the talk of the campground!
Get yours click here https://www.indiegogo.com/projects/the-world-s-smartest-outdoor-lantern – /
I hope you enjoy these cool gadgets; they can really enhance you camping experience.  See you out on the road….
Keith Sims