Countdown to the Best RV Show in the Country
It is 2018 and the start of a new year. Better than that, it is the beginning of the RV show season. What better way to kick the winterization blues than to get to Tampa for the 2018 Florida RV Supershow!
Whether you are veteran attendees or first-timers, you will want to make sure you have a checklist of items to prepare yourself for the show. We will attempt to share a short list of vitals to maximize your comfort and efficiency during your time at the fairgrounds. No matter if you are seriously shopping for your new home on wheels, window shopping or simply RV curious, this list will come in handy for you.
Here are a few things you should know about this years' show just to give you an idea of the scope of what is in store for you. As the largest show in the country, the Florida RV Supershow boasts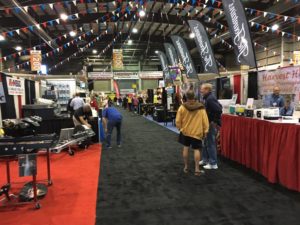 over 450 vendors and more than 1,550 RV's from towables to luxury motorhomes. There will be something for everyone no matter what your budget may be! With such a selection and range of inventory be ready to have your mind blown.
The following is list of tip and recommendations on how to prepare for the Supershow:
The show is located at the Florida State Fairgrounds and is laid out over 26 acres. Yes, you read it correctly! That translates into a lot of walking so it is safe to say you can skip your daily workout during your time at the show. Don't forget your fitness trackers because you will get your steps in easily at this show. Plan to wear comfortable shoes. This is not the time to test out new footwear. Break out those old reliable comfy shoes, even if they aren't the most fashion forward items in your closet. You will be thankful you did at the end of the show.
There are plenty of food vendors ready to serve you at the show. However, if you are looking to eat healthy while doing all that walking, it may be best to bring a few healthy snacks from home. We love to indulge in some yummy fairground favorites like pizza while at the show. During the snack times however, it is nice to have some fresh fruit in a cooler bag and a cold bottle of water to refuel with. Remember to stay hydrated while at the fairgrounds. It is easy to lose track of time while going in and out of the RV's, effectively forgetting to stop for a drink of water. If you have one in hand your odds of staying properly hydrated increases dramatically.
Bring a backpack or comfortable shoulder bag. At the show you will find lots of goodies in the vendor halls to purchase and some useful freebies. Having a bag will enable you to carry all of your awesome finds while keeping your hands free. Also, if you are shopping for a new RV, you will want to grab some pamphlets from each manufacturer so that you can remember what you saw at the show.
If you are shopping for an RV or accessories for your current home on wheels, bring a notepad and pen. Due to the vast inventory at the show, it will be difficult to remember the specifics of what you liked in one item versus another. Taking notes will allow you to remain organized and focused in your research. *Tip – Take lots of pictures of your favorites at the show. They say that a picture is worth a thousand words. Who has time to write a thousand words with over 1,550 RV to see?
We love to enter as many sweepstakes, offers for free nights at campgrounds and free goodies as possible. Many times the vendors and campgrounds want you to fill out a card with your name and address to enter into the drawing. Insider tip -To expedite that process, we bring pre-printed address labels with us. It makes it super easy to peel and stick the information on the card and not worry about legible handwriting.
Make sure that you are prepared for whatever the weather may bring. Check the daily forecast prior to heading out. Make sure that you a dressed appropriately for the weather because you will be outside most of the day.
Finally, HAVE FUN! There is so much to see and experience at the show.
Five Fun Show Facts 
Manufacturers and dealers will be on hand; some come armed with your questions.
There will be "show only" pricing; you can get the best deals at the start and end of the show.
The show is family-friendly so bring the kids. There will be a Kids Zone on Saturday and Sunday for them to enjoy a little playtime break from the hustle and bustle of the show.
Need more than one day to enjoy the show? You ticket is valid for any 2 days of the show!
You really don't want the show fun to end? You can camp right at the Florida State fairgrounds!
See you at the show – SOULFUL RV FAMILY