Edison & Ford Winter Estates
Scroll to the bottom of the page to watch the Edison Ford Winter Estates video!
Edison & Ford Winter Estates, Ft. Myers:
Touring the Ft. Myers winter homes of Thomas Edison and Henry Ford, two famous friends who spent years as neighbors on the Caloosahatchee River, is a beautiful journey into the past. Edison bought his property in 1906 and Ford bought the house next door in 1916. Only a fence – called the "Friendship Gate" by both families – separated the two estates.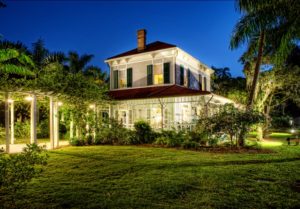 Visitors to the estates can explore 20 acres that includes historical buildings, homes, pool, gardens, museum and the Edison Botanical Laboratory. There the two famous inventors worked with Harvey Firestone to discover a local source of rubber that could be grown in the United States.
Through the various tour options, visitors to the Edison & Ford Winter Estates will learn firsthand how the ingenuity and hard work of Thomas Edison and Henry Ford changed American business and industry and how their presence changed the city of Fort Myers.
Education and community programs cover science, history, the arts and culture, making this a very engaging visit for all ages. Riverfront garden areas include a pavilion that serves as an open air classroom, entertainment and rental facility. Riverboat cruises launch from the marina. The Edison Ford Museum has hundreds of inventions, artifacts and special exhibits.
Edison & Ford Winter Estates. Open daily 9 a.m. to 5:30 p.m. 2350 McGregor Blvd. Fort Myers, FL 33901. Phone (239) 334-7419
For more information on Edison & Ford Winter Estates check out their webpage.  For RVing and RV Travel blogs, please visit our website blog. For our upcoming RV Shows check out our Show Homepage.
Please make sure to subscribe to our YouTube channel, FRVTA, for more videos on our amazing member Florida RV Resorts, State Parks, Attractions, Multi-Dealer RV Shows, and the annual Supershow!