The Family Beach Vacation.
Yes, happy children playing in the sand, beautiful ocean breezes, large umbrellas giving glorious shade from the sun while my husband and I sit peacefully on beach chairs.  I can intermittently doze off, listening to the waves roll onto the shore, while sleepily sipping a perfectly sweetened glass of ice-cold lemonade.  This is my picture perfect beach camping vision. 
Oh, did I forget to mention enjoying that book that I have been trying to read since the beginning of the year when I made my New Years' resolution that I would get back to reading?  Oh yes, I was looking forward to our beach camping vacation!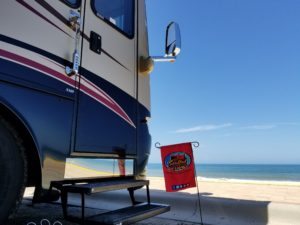 As we pulled into Beverly Beachtown Campground Resort, all of my worries and stresses seemed to immediately wash away.
The boys and I could not wait to change into our swimsuits and hit the sand.  However, I had to be that responsible mom and temper our excitement with a little beach safety lecture, sunscreen application, and lunch.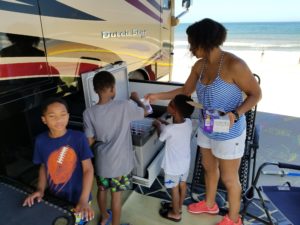 We were setting up on the beach within an hour of our arrival. 
Tent

Beach chairs

Books

Drinks/Snacks

Towels

Extra Sunscreen

Beach Toys/Body Boards
Did we forget anything?  I was so tired of toting our gear through the sand that I could not wait to settle into my chair with that book!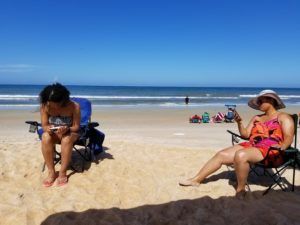 It looked as if my moment had arrived.  Ahhhhh….  That is when it began.  My quick head count came up one kid short.  Panic set in!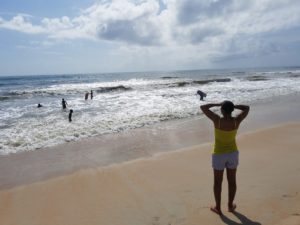 It turns out my boys were just having fun going underwater and swaying with the waves.  However, now my "mama bear" protection mode has swung into full alert.  What was I thinking?  I have little kids.  I can't possibly sit back and read, never mind close my eyes, when my babies are present on the beach.  Oh well, it is time to get in the water with the boys and have some fun, right?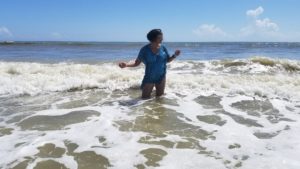 In I go and the boys are having a ball.  They are in heaven, with the waves, splashing and jumping.  I have never seen them so happy just to be kids.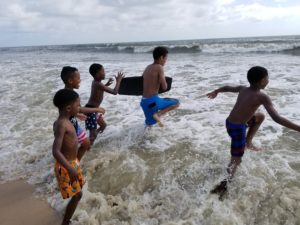 We must have been out there for at least four hours.  I repeat, four hours!  I realized that for four hours nobody complained, nobody asked for food or snacks, nobody was bored, and nobody was ready to go inside.   I also realized that I had not sat in the beach chair, I had not read one sentence in that book and that my lemonade was at best luke warm.  So much for my perfect beach camping vacay.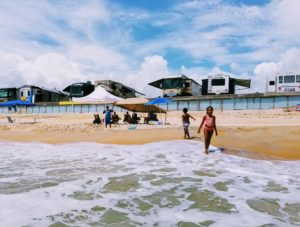 Wait a minute though.  I had to take a moment to put myself in check.  This is a family vacation.  Our family was having a blast playing together in the water!  The Florida weather was beautiful, and I was only steps away from our home on wheels.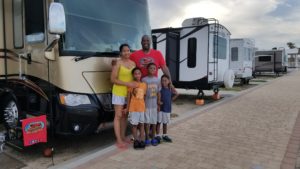 No matter what I thought my perfect beach vacay should look like, THIS WAS IT.    Everybody was together, and everybody was happy!  At the end of the day isn't that why we choose this lifestyle?
*We chose to camp at the Beverly Beachtown Campground Resort, located on Florida's Flagler Beach.  This is one of our favorite spots to beach camp in the Sunshine State.