Plan a Successful First RV Trip
After months or sometimes years of dreaming and waiting, the big day finally comes – time to plan your first RV trip!  This can be a daunting moment but a few pre-trip preparations will make a big difference when it is time to hit the road. 
Get to know your RV
When you pick up your new or rental RV, you will have a detailed walk-through to show you the ropes. This is your time with an expert so take advantage of it and ask as many questions as needed. If possible, have someone with you that can take quick videos of each feature separately for easy reference later. 
Take a practice drive
Take a test drive with your salesperson on a known route by the dealership to get the feel of the rig which really is quite similar to a car but a lot more comfortable! Unlike a car, however, you won't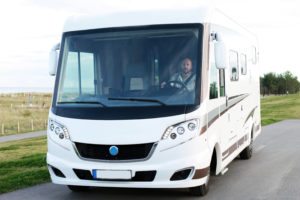 be able to look over your shoulder to see vehicles to the side of you so learn to rely on your mirrors.  Before your first rv trip, you can also head to a large open parking lot and setup cones or empty milk jugs to practice pulling and backing into tight spaces like a RV campsite. 
Plan your route
The RV lifestyle gives you the freedom of the open road with all the comforts of home. It takes planning, however, to ensure a stress-free trip. Make sure that you know if there are any country roads with low bridges or campgrounds with roads that are too narrow for your rig. Chart out the stops that you are making including gas stations, rest stops, campgrounds and sightseeing experiences. 
RVers have been using paper maps since the 1910s to chart their courses and this is still a viable option but a GPS or app are much easier for most to use. Garmin and TomTom make stand-alone GPS devices specifically designed for RV travel but are expensive options if you aren't planning on using them regularly. If you aren't ready to commit to the expense of a stand-alone GPS, there are many smartphone apps that can help.  CoPilot RV USA is considerably less but offers all of the same functionality. On all of the options, you create a RV profile with your rig's height, weight and length which will calculate safe routes for your size and type of RV.  With the CoPilot app, you can plan, save and modify your routes ahead of time with up to 50 stops. The resulting navigation maps are stored on your phone so you don't need to worry about a data connection while traveling.   
Create a setup checklist
When you arrive at your destination, a setup checklist will streamline the process.  First, examine the campsite for low-hanging branches, pot-holes and debris and to find the water, sewage and electric hook-ups. Pull in close to the hook-ups. If you are backing into the site, don't rely on a rear-vision camera as it doesn't give you a full view of the area. The best option is to have one or two spotters standing outside that can guide you into the spot.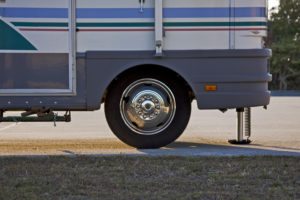 After pulling into your campsite, level the RV either by using the electric levelers or leveling blocks. Stabilize the RV to prevent rocking and chock wheels for safety. Connect the electrical power and switch the appliances off of propane. Attach the sewer hose to the drain hookup. Put out slides, awning and setup outdoor living space. Having assigned tasks on your setup list will speed up your setup process and practice will really help to make you more efficient. 
Your first RV trip is a success! Time to enjoy!