Florida Kayaking
Kayaking is a great way to see Florida's best waterways!
As you read about outdoor fun in Florida, a common theme emerges: water. Florida is blessed with beautiful springs, remote lakes, coastal estuaries, shallow ocean fishing sites, rivers, creeks and streams. And one of the best ways to experience all the outstanding natural waterways in Florida is by kayak.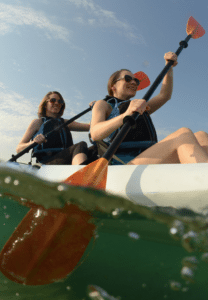 Florida is home to miles and miles of some of the most beautiful waterways you will ever find, all accessible by kayak. What better way to experience wildlife than to silently float near alligators, turtles, fish, manatees and birds, quietly clicking away with your camera?
There are numerous kayak/canoe outposts found on Florida waterways that offer rentals and all the equipment you will need. A quick bit of instruction from your renter is all you will need to get started. The paddling required to move the kayak along is minimal and within minutes you will be gliding into viewpoints you've never experienced before. Many of the vendors will even drop you off upstream and pick you up downstream, depending on what you want to see.
A good resource for planning a kayak adventure is ClubKayak.com, a paddlesport community for kayaking and canoeing. On their website you will find paddle clubs all around the state organized to provide weekly trips. Members enjoy overnight trips, meetings, social events, biking, hiking, fishing and more. Groups on ClubKayak include the Florida Sea Kayaking Association, the Green Wave Forum and many local clubs from cities and counties all around the state.
Paddle Florida calls Florida a paddling paradise, with 45 designated trails, 1,000 miles of coastline and more than 1,700 miles of rivers, streams and creeks. Great lists of paddling destinations are organized by region at www.paddleflorida.net.
Top 10 Florida State Parks for Kayaking, Canoeing and Camping: