Florida Shipwrecks
Hurricanes, mishaps and pirates. That's just part of the reason Florida's coastal maritime history is so rich and colorful. From Florida shipwrecks, pirate museums, and coastal lighthouses, these historical destinations provide travelers to the state of Florida with plenty of activities to enjoy.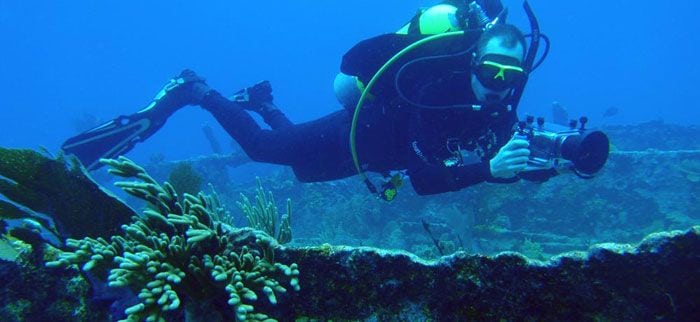 Shipwreck History 
The story of each shipwreck is woven into the fabric of Florida's history. It's a story of conquest, trade, and economic development. Since its earliest days, Florida was a location of interest for the British, French, and Spanish alike as they pursued trade routes and colonial expansion.
Juan Ponce de Leon is the first Spaniard we know of to encounter the state. Prior to that, native people of Florida had enjoyed the multiple waterways by canoe for thousands of years. In fact the waters around Florida have been literally swarming with ships for more than 6,000 years! Many have been met with misfortune and weather along the Florida coast as evidences by sunken ships and canoes lying at the bottom of the coastal waters.
Today, thanks to the efforts of many, these shipwrecks are being preserved for both their historic and ecological value. The Florida Bureau of Archaeological Research has developed program to teach the public about the state's maritime heritage. Other shipwrecks are protected by the Florida Underwater Archaeological Preserves or underwater diving parks.
These archaeological preserves or "Museums in the Sea" include:
USS Massachusetts near Pensacola.  Hailed by some as the worst battleship ever built!
SS Tarpon off the coast of Panama City Beach.
Vamar which is 4 miles off the shore of Mexico Beach after sinking under suspicious circumstances.
City of Hawkinsville in the shallow waters of the Suwannee River near Old Town.
USS Narcissus was lost with all hands off Egmont Key.
Regina is only partially buried off of Bradenton Beach in shallow water.  It is popular with snorkelers due to it's proximity to the beach.
San Pedro was lost in a hurricane near Islamorada in the Florida Keys. It has become one of Florida's oldest artificial reefs.
Half Moon was a floating cabaret that sunk near Key Biscayne in shallow water.
SS Copenhagen sank in only 15-30′ of water in the clear blue water off Pompano Beach.
Lofthus sits in only 15-20′ of water 175 yards off-shore of Manalapan.
Georges Valentine off the coast of Stuart.
Urca de Lima is part of the fabled Spanish plate fleet that sank off the coast of present-day Ft. Pierce in 1715. The name Treasure Coast was given to the eastern Florida region due to the wreck of the Spanish treasure fleet.
For an amazing overview of each site including photos, history and brochures check out the Division of Historical Resources, Bureau of Archaeological Research's site museumsinthesea.com. The National Park Service has a in-depth 52-page instructional book for teachers that are interested in an exciting lesson on The Spanish Treasure Fleets of 1715 and 1733 that highlights many of the archaeological sites. This is a fun tool for teachers and home school parents which really brings the history of Florida to life.
The 12 shipwrecks protected by the Archaeological Preserves are only a small amount of mishaps that have occurred in Florida waters. If you are an experienced diver and interested in exploring additional sites, Electric Blue Fishing has compiled an extensive list with coordinates of all known Florida shipwrecks.  This is a great place to start planning a Florida shipwreck tour for the true undersea adventurer.
Planning Your Next Florida Vacation
As you can see, adventure awaits you in Florida. Rich with history and offering many modern-day attractions and dining experiences, you will greatly enjoy an extended stay visiting Florida Shipwrecks!