Fulltime RVing with Kids
Is RVing with Kids Possible?
That's probably the number one question that's asked by parents with a bit of wanderlust in their hearts and a desire to see your genes passed on to another generation. Just so we answer it right off the bat, deciding to procreate doesn't mean that you need to abandon your inner nomad. Far from it; there are many benefits to having children who can grow up appreciating their surroundings and the freedom that a travel-oriented lifestyle brings. If you're interested in going full-time in your RV, it's still just as possible to raise a family with the advent of progressively better technology and online services combined with a positive home-schooling attitude.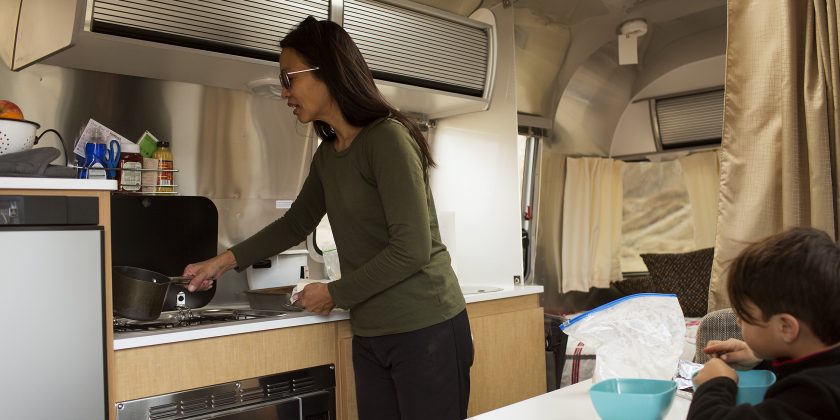 Common Things to Consider
What's for dinner?
Good news for any foodie; most RVs come with burners, ovens, microwaves, and even refrigerators with freezers. Crafting the perfect meal when hooked up to various water or propane outlets is no different than being inside a traditionally-built home.
Make sure to focus on healthy, nutrient-packed foods when RVing with kids so that they can grow. However, try to avoid the common boxed meals and stick with soups, dehydrated fruits, veggies, and whole grains which are easy to store, don't require any special refrigeration, and pack a lot of calories for their value. This means that you can maximize space while also keeping a diverse and tasty rotating menu for your whole family.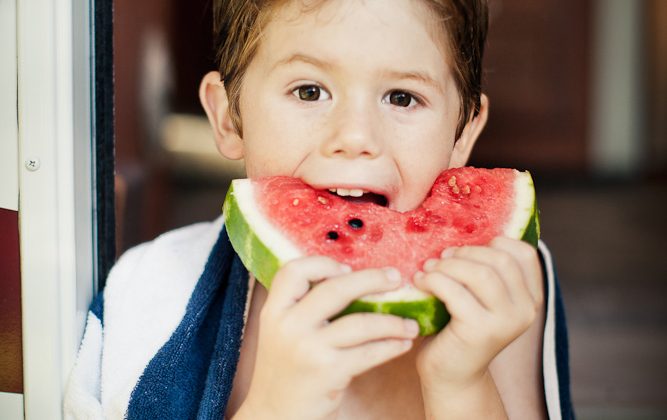 Stumped for what to cook at the campsite? We frequently post healthy RV-friendly recipes that taste great and are easy to prepare.
What's hygiene like?
When boondocking, your RV will be equipped with a large amount of freedom that can feel liberating. However, keep a careful eye on your freshwater supply and fill up before you are out.
If you're hooked up to water in an RV park, you won't need to worry at all and can even top off your storage tanks. But, if you've decided it's time to travel off the beaten path, then limit showers to a couple of minutes and use lukewarm water to save on heating. Consider bathing with more than one person at a time if your shower is large enough; small children as a group are easy to wash and will waste less water.
What do you pack for adventures outside of the RV?
Just like you would for any adult, pack for the occasions and adventures that you plan to have. Since you are the only person who could know your child the best, take a moment to think or write a list of the things they like. Can they hike on their own or do they tire out often? Do they like the forest, or do they prefer the water?
Start with a daypack, and then as your child grows, make them carry more of their own gear on outings. This teaches them not only accountability and how to manage their own equipment, but it also helps them eventually pass these RV tips on to their own children.
Make sure to include their own outdoor chairs, bikes, hula-hoops, and other outside toys to keep them active and busy at camp.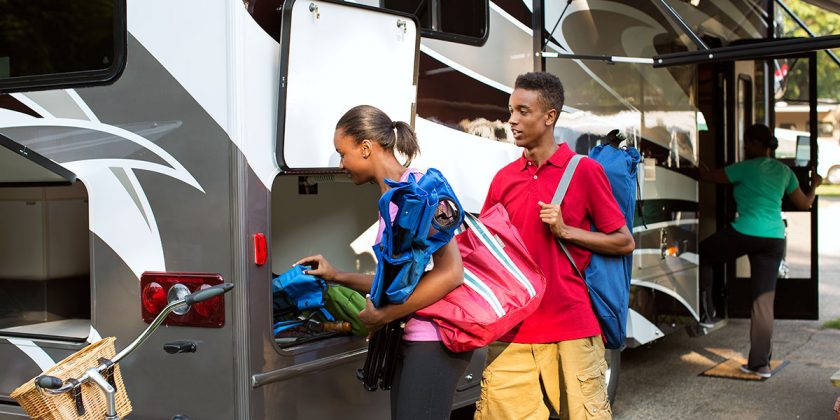 What are the schooling options?
Thanks to the power of the Internet, there's a lot of versatility that comes with wanting to travel and homeschooling when RVing with kids.
Several online K-12 courses exist to make sure that your child is happy and well-educated. These are all able to be done with whatever involvement of the parent is deemed necessary. One such as K12 keeps online public and homeschool options affordable to all parents.
The best part? A parent doesn't need a teaching degree or certification to participate in the process of homeschooling, saving you money and time.
Where does everyone sleep?
This is one of the areas where the size of the RV plays an important role and can be difficult to adjust if you purchase something too small. Ideally, you'll want to know how many sleepers you'll have in your RV well before the purchase.
Most RVs, even smaller ones, come with at least one queen-sized bed. While this might seem good enough at the moment, there isn't much "wiggle room" for couples with two or three kids, especially if they're older. Most dinettes and sofas turn into beds but this isn't ideal for full-timing as those spaces are typically used by adults after the kiddos head to bed so ideally, select an RV that has a dedicated bed for each traveler. Fortunately, there are several RVs that come with both a king or queen master bed and twin bunk bed options, sometimes with as many as five separate beds. What will matter the most is your budget and the size of your RV.
Travel Opens the Heart, Broadens the Mind, and Fills Your Life With Stories
At the end of the day, it's important to remember the entire reason why you went RVing with kids in the first place. Not only will it bring your family closer in ways you've never imagined (metaphorically and literally), it'll enrich the lives of your children and create memories for decades to come.