Green RVing
Reducing, reusing, and recycling are just the first steps toward saving this beautiful planet while traveling around it. Now it's time to take it to the next level: green RVing. While you soak in the scenery, take these steps to save some greenery!
Reusable camping goods
RVers love to use disposable tableware, cups, and cutlery for easy cleanup. Unfortunately, it's not so easy for the planet to clean them up! Instead of buying disposables, invest in reusable plates, bowls, cups, and utensils. Consider edible options like using a wrap instead of a bowl or snacks like come with their own wrapper like bananas and watermelons.  There are also biodegradable plates and utensils that are considered eco-friendly and easy to use for any type of meal on the road.
Fix those faulty faucets
Let's face it: a lot of RVs are equipped with sub-par water systems, so many RVers stock up on bottled water that can't be recycled easily. With one simple swap, you can make less plastic waste from bottled waters or sodas. Changing the aerators and filter systems will not only conserve water, but they also provide higher water pressure and a longer period of time between grey water dumpings. The best part? It only takes a couple of hours to make this eco-friendly switch!
Think electricity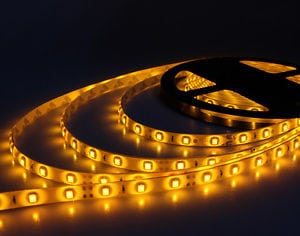 Regular bulbs easily pull 50 times more amps (or more!) than LED bulbs. Not only do they reduce energy, but LEDs actually save electricity and last longer than the light bulbs that come standard in most RVs.  There are even easy-to-install LED light strip tape that can be mounted to any smooth surface to accent your RV while saving energy!  So go ahead and make the initial splurge; these bulbs will save you hundreds of dollars long-term and save the planet, one light at a time.
Light it up!
Long gone are the days where solar panels were only for the rich. Now, you can order a fancy panel for under a couple hundred dollars. Simply install it on the roof of your RV and hit the road! You'll be able to live off-grid longer while using less electricity than ever before. Some panels are even removable, so you'll be able to store them inside overnight and protect them from the elements.
Keep the fire clean
When people think of RVing, they often imagine sitting around a campfire at night with friends and family. Unfortunately, fires release toxins into the air that can harm the natural flora of the area. To reduce damage, only light a fire to keep warm or cook meals. Be sure to recycle your waste as well; burning trash or recyclables adds a tremendous amount of chemicals into the surrounding area.
Buy local
Since you'll be traveling a lot, go ahead and take advantage of the local offerings! Instead of shopping at superstore, visit the local farmer's markets and produce sales. Many cities host these events at least once a week, sometimes even in conjunction with an art market. You'll be able to buy organic foods and reusable ceramic plates and bowls all in the same place (and still feel great about going green while saving some green).
Make the enzyme switch
For years, harmful chemicals and deodorizers have been the standard for cleaning RV tanks. These additives actually harm the environment the moment they're dumped out with the gray water. Instead, choose an enzyme-based tank cleaner for green RVing. This will clear your eco-conscious mind and keep your tank smell-free.
Think long term
While making short-term swaps is a great place to start, Green RVing really comes down to implementing long term changes. At the store, make the swap to biodegradable trash bags and minimally packaged foods. If you go boondocking, try not to park on any indigenous plants or flora. Or maybe just plan ahead and figure out shorter routes between landmarks to save gas and money. Big or small, the green changes you make today will shape the future forever.