Handicap RV Travel
Handicap RV Travel: Easier Than You Think!
Using the proper alterations, handicap RV travel can be easily experienced by wheelchair-bound individuals. Alterations may include electrical tweaks like relocating light switches or larger structural modifications like dropping kitchen countertops and enlarging doorways for Florida travel. The work that offers the greatest dividends for your time usually involves the area around the RV's entry points, the steering wheel and the restroom. Stopping by your local RV dealer or handicap mobility specialist to talk about specific requirements is important for these kinds of personalized adjustments.
Steering
The physical requirements of driving an RV can be lessened by using hand controls. Such instruments can assist those with leg spasms, minimal limited flexibility, hand strength or partial paralysis. An active hand with an immobile arm would benefit from a steering knob that just needs a little twist with one hand. A disabled hand with a fully-functioning arm will be able to take control of the wheel with a steering cuff. Situating hand levers would allow for speed control—the driver can pull back to accelerate and push forward to brake. To operate your RV with adaptive selections, drivers have to be suitably licensed. Get in touch with the Association for Driver Rehabilitation Specialists in order to locate a certified evaluator near you. For more information on CDRS vs DRS, see the ADED's informative article.
Doors
Entering and exiting your vehicle can be even easier when the RV is fitted with a wider side door, lift or ramp. Chair lifts, wheelchair lifts, standing lifts and ramps can all be considered. With RVs that are towable, the cab of the vehicle towing the RV is generally taller than regular cars—meaning an extra lift might be required. This is a good starting point when you're in the process of selecting a style and brand of lift or ramp.
There are various options for RV entry points to make accessing the interior easy for the handicap. A wheelchair lift can be fitted on the motorhome or trailer by a licensed installer or a seat lift can be easily installed in the existing door frame. Toyhaulers can also be used for handicap RV travel without door modifications if dropping the tailgate for access isn't a problem; depending on the model, the ramp can be on the rear or the side of the toyhauler.
Bathrooms
As with other areas around your RV, the bathroom's doorway might certain adjustments like widening for comfortable handicap RV travel. This allows wheelchairs to move in and around the vehicle. Additional changes also involve the installation of customized toilets, sinks and/or accessible showers. Easier changes include lowering the medicine mirrors and cabinets as well as the implementation of support bars. Go to a mobility specialist near you to determine if your RV's current bathroom can be reconfigured to suit your requirements.
Getting Started Off Right
Try to schedule an appointment with a local specialist to determine which modifications need to be made on an existing RV. You could also team up with your local dealership to find a new RV that's equipped with all of the needed accommodations right from the get-go.
Features
A large number of RV manufacturers now offer factory modifications prior to delivery for handicap RV travel. Other than the standard RV home-like amenities and conveniences, handicap RV adjustments could include: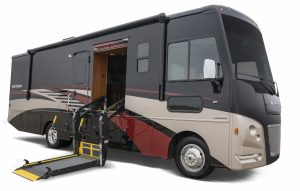 Wheelchair ramps or lifts for accessibility
Widened interior pathways and entrances
Lower kitchen cabinets and counters
Conveniently placed controls
Roll-under sinks
Roll-in showers
For the Disabled
Outdoor and travel enthusiasts don't need to be limited by their special physical needs. You can recapture the needed mobility to enjoy your time traveling around in recreation vehicles. These vehicles are the perfect way for anyone to feel what traveling down the open road in convenience, style and comfort feels like.