Ichetucknee Springs State Park
If you are an RV enthusiast looking to get back to nature in all its beautiful splendor, strongly consider your next expedition visiting and RV camping at or nearby one of Florida's gorgeous state parks like Ichetucknee Springs State Park. In all, there are 175 state parks in Florida, encompassing over 800,000 acres, where visitors can find pristine locations on either Florida coast as well as a great number inland like Ichetucknee.
The Ichetucknee River is located southwest of Jacksonville and northwest of Gainesville in an area known for its pristine water and amazing springs. The State Park is a 2,669 acre (3.5 square miles) state park and a National Natural Landmark. The park centers around the Ichetucknee River, a pleasant waterway that flows through rustic wetlands and shaded hammocks as it filters into the Santa Fe River. Fed by eight major, natural crystalline springs which join together to create the river, it maintains a pleasant temperature of 72 degrees year-round. Scuba diving is a popular water activity in the area but you can find plenty to do on the water without a tank!
Tubing at Ichetucknee Springs State Park
Tubing along this scenic river is very popular with visitors. If people have their own tubes, that's great. No tubes? No problem, as you can rent tubes and get tram/shuttle service within the park at the general store. Natural trails can be taken in lieu of taking the tram.
For other adventures on the water, paddling, kayaking, and stand-up paddleboarding are terrific ways to take in the beautiful wildlife, drifting through moss-draped cypress and along the limestone banks. And this is a wonderful way to possibly view river otters, manatees, and wading birds. Kayaks, canoes, and paddleboards can be rented in the North End at the Canoe Launch.
For a more sedentary, calm activity, many park visitors specifically come around and enjoy Birding. As the park is part of the Great Florida Birding Trail, enthusiasts can look forward to seeing varieties of Eastern Wild Turkey, Red-Headed Woodpecker, water birds, Barred Owl, Bachman's Sparrows, Northern Bobwhite, American Kestrel, and many others.
To really get back to nature, you can go hiking here. There are three hiking trails located at the park's North Entrance. They include:
Blue Hole Trail: This .5 mile walk leads to Blue Hole Spring, the park's largest spring.
Pine Ridge Trail: Quieter than the other trails, this is a two-mile look, self-guided, that generally takes about one hour to 1.25 hours to complete.
Trestle Point Trail: Another self-guided trail, it winds right down along the river. Time typically takes about 30 minutes to walk its length.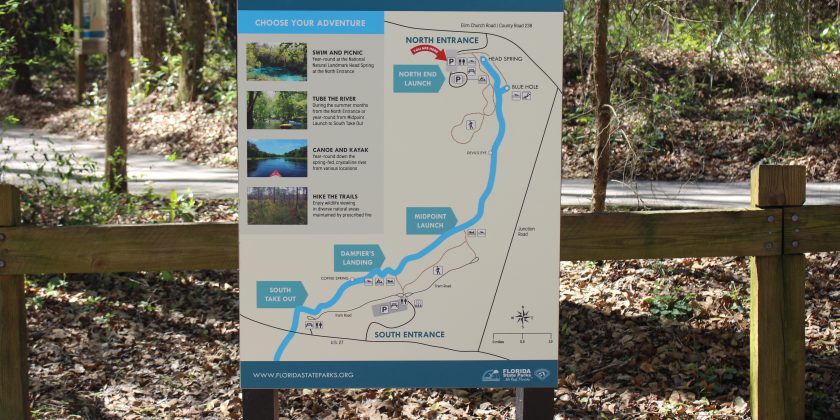 Wildlife abounds here throughout the park. In this wildlife haven, visitors may see otters, beavers, gars, wild turkeys, softshell turtles, limpkins, wood ducks, and even manatees.  Other great activities that visitors here will always remember include:
Picnicking: Picnic tables, grills at North and South Entrances.
Swimming and Snorkeling: Open every day of the year (8 am -sundown) at North Entrance.
Scuba Diving: Allowed at Blue Hole Spring; must be cavern or cave certified.
Weddings: They take place here! Pavilions accommodating up to 50 people located at the park's south end.
Family Reunions: Available is a large pavilion at the South Take-Out, and two pavilions at the south entrance.
Camping near Ichetucknee Springs State Park
This inland area of Florida is known for its natural springs and gorgeous blue waters. Although Ichetucknee Springs doesn't offer camping at their facilities, there are plenty of nearby state parks that do making it a great day trip for an extended stay in the area. Some of our favorite spots near Ichetucknee Springs include Gilchrist Blue Springs State Park and Ginnie Springs State Park. Please check out our blogs on these great nearby spots when planning your visit to the Gainesville area!1
For more information, please visit the Ichetucknee Springs State Park page on floridastateparks.org or call 386.497.4690.