Lemon Bars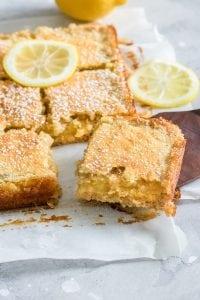 Lemon Bars are a Florida favorite! Sweet, tangy refreshing and full of the fresh citrus goodness for which Florida is famous. We normally try to find recipes that don't involve turning on the stove in your RV but this one is just too good to pass up. The ingredients are pretty basic so you most likely have them already in your cabinet.
Crust Ingredients:
2 cups flour
1/2 cup powdered sugar
1/4 tsp salt
1 cup cold butter
Filling Ingredients:
2 eggs
2 cups sugar
1/2 cup fresh lemon juice
2 tsp lemon zest
1/4 cup flour
1 tsp baking powder
Preheat oven to 350° F.  Whisk together the dry ingredients for the crust then cut in the butter until crumbly. Press into a 9″ x 13″ pan and bake for 20 minutes.  Cool for at least 10 minutes.  While the crust is cooling, beat eggs with the sugar, lemon juice and zest.  Sift in the flour and baking powder.  Spread over the crust then bake another 25 minutes.  Cool then sprinkle with powdered sugar before serving. Enjoy!