Leon Sinks Geological Area
Just off of US 319 south of Tallahassee, the Leon Sinks Geological Area in Apalachicola National Forest is a uniquely amazing place. It's a prime location to witness the wonders of karst topography and enjoy the atmospheric swamp forests of north Florida. Wandering the trails, you can explore sinkholes, catch glimpses into underwater caves, and marvel at natural bridges created by the limestone geology of the area.
Leon Sinks Geological Area
What creates the unique geology and topography at Leon Sinks is the layer of limestone that lies just below the surface of the ground. Susceptible to erosion, this limestone layer gives way to water flowing from natural springs in the area, creating underground caverns, natural bridges, sinkholes, and tunnels. This "karst" topography is visually stunning and creates an ethereal vibe among the lush swamps of Apalachicola National Forest.
Just about 7 miles south of Tallahassee, this scenic spot offers trails, picnicking areas, an interpretive center, and more. There are plenty of amenities and services available to visitors in the main parking lot. To enter you can either purchase a $5 day pass or use an America the Beautiful season pass to enter.
Apart from the unique geography, wildlife watching is one of the prime attractions. Turtles can be seen paddling through the water, deer wander through the woodlands, snakes, tortoises, and salamanders hide out in nooks throughout the forest, and hawks and eagles are often soaring overhead. It's a great spot to get a glimpse into the ecology and wildlife of the area.
RVing in the Park
The convenient location, ease of accessibility, and plethora of natural sights make this a prime location for RV camping. Whether you're exploring the sinkholes, disappearing rivers, and other uncanny underwater sights in the park or looking for a convenient rural base for exploring the north Florida region, this is a great spot for an RV holiday.
There are a number of options if you want to spend time RV camping. The Big Oak RV Park isn't far away and offers all the amenities and services you could want. There's also the Tallahassee RV Park, which is centrally located and offers all you need to enjoy an RV getaway. Other than RV parks, there's the Historic Wakulla Springs Lodge, as well as several campgrounds that offer hookups and overnight parking for RVs. The Newport Campground and the Shell Island Fish Camp are both nearby, offer basic camping services, and welcome RVs as well as tent campers.
Trails in the Park
The main reason this geological area is a memorable place to visit, is because of the eye-catching topography throughout the area. Due to naturally flowing springs, the soft limestone bedrock erodes leaving subterranean caverns, tunnels, and holes in the subsurface. These fill with water and support a diverse population of animal and plant species, besides looking pristine and ethereal.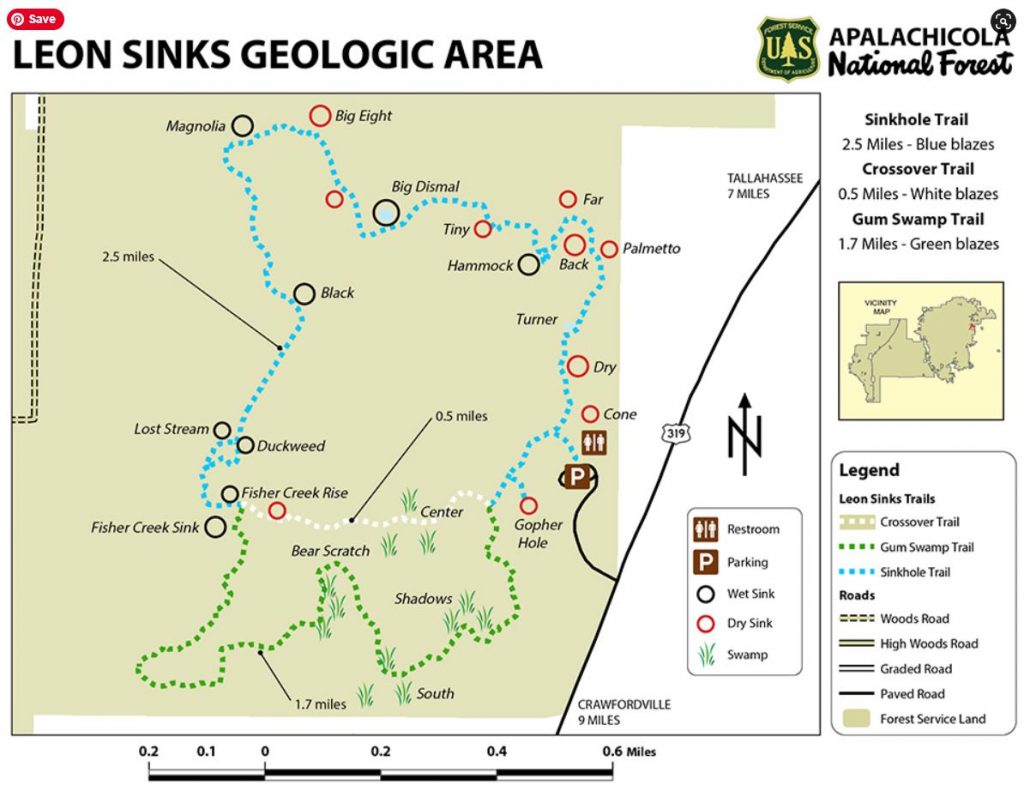 The trails are organized as a 4.4-mile loop, with a connector trail cutting across to shorten the journey if desired. If you start out from the main trailhead, you'll first encounter longleaf pine and wiregrass, as well as dogwood and magnolia groves. You'll then find yourself at a number of sinkholes. Some of them require a short detour off the main trail to observe. Boardwalks ensure you have a safe vantage point from where you can observe the colorful, water-filled caverns below.
As the trail continues, there's the opportunity to enjoy wildflower meadows that bloom each spring. And after visiting a few more sinkholes, there's the opportunity to either cut across through the middle of the swamp forest and enjoy wild azaleas and dense marsh woodland, or you can continue on the longer loop around the perimeter of the park to see some more geological sights. Both trails bring you back to where you started, after having treated you to sights that are as memorable as they are beautiful.
Things to Do Nearby
Being such a short trip from the bustling metro area of Tallahassee, the area is full of nearby options when it comes to art, food, visitor attractions, and other activities. There are plenty of museums, historic homes, festivals, concerts, restaurants, cafes, art galleries, and landscaped city parks and gardens within an easy driving distance of the park. Whether you're interested in history, landscapes, art, or food, there's lots to do in Tallahassee.
For more information, please visit the Leon Sinks Geological Area webpage on fs.usda.gov.  There have been some temporary closures due to construction upgrades so verify opening on the website before your trip.