Meet our Guest Bloggers – Mortons on the Move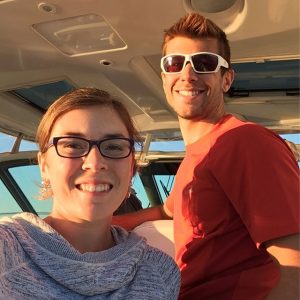 We are Tom and Caitlin Morton, also known as the Mortons on the Move. We are originally from Michigan, but now our home is wherever we park it. We met in college and got married a few years after graduation – Tom in Electrical Engineering and Caitlin in Business Management. We bought a house in Michigan and both got jobs in Corporate America for a Fortune 50 company.
After several years of climbing the corporate ladder, we were feeling stuck: stuck in our house, stuck in our careers, stuck in our routine, stuck in the Michigan winters, stuck with our two weeks of vacation time each year. We knew we wanted to make a change, but we didn't know what to or where to go. In our limited amount of time off per year we hadn't really been able to do much of the traveling we'd always dreamed of once we were "making money."
Back in 2013 Tom's employer ended up going through a series of layoffs which he made through, but it piled on increase workload and stress that led to some very negative impacts on his health. That winter, we decided to getaway for a while and went to Florida for 10 glorious days. But all vacations have to come to an end: we landed back in Michigan to a 2-hour drive home in a blizzard and we were not happy. "I wish we could work remotely from wherever we wanted to be, whenever we wanted to be there," one of us said. That's when the idea struck: …well, wait a minute. Why couldn't we? With the technology these days to enable connectivity from almost anywhere, could there be a way for us to combine our desire to travel, "follow the sun," and still make a living?
We happened to drive by an RV dealership around that time on our drive home. Tom pointed at the RVs and said "Don't people live in those?" By the time we got home, we had made the decision to live full-time in an RV and travel America. A year and a half later, after selling our house, horses, cars, toys, and most of our other belongings we departed our "normal" lives.
We travel in a used 2005 Doubletree RV (now DRV) Mobile Suites, model 32TK3 K3 (translation: 32 ft interior, Telescoping Kitchen, 3 Slides). We tow it with a 2010 Dodge Ram 3500 DRW 2WD truck with a Cummins 6.7 Diesel engine that we've made some upgrades to.
We have two dogs that travel with us, Mocha and Bella. We have been living full-time in our RV since the day our house sale closed on September 15, 2015. Since then, we've been following the sun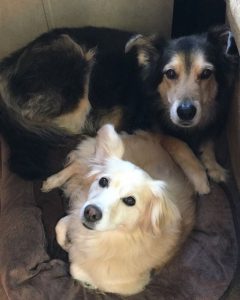 and seeing so many wonderful places! We started off with a Google Map covered with pins that we've slowly been hitting and adding to as we go. We've traveled 22 states, Washington D.C. and the Bahamas, over 25 National Parks, and countless more State Parks, National Forests, and Recreation areas. In just these 2 years of travel we've seen and done way more than we could have in a lifetime of vacations, and there is still so much more to see!
Moving into an RV met so many of our goals and desires: getting to travel and experience more, being in nice weather, having a more active lifestyle, visiting distance friends and relatives, and pushing us to start our own businesses and live life on our own terms. Sure, there were challenges, and it certainly didn't happen overnight. But since we've been on the road, we've had so many amazing experiences and met so many wonderful people that we've nearly forgotten the challenges we had to overcome to get here. There were so many times in our first year that we'd said to each other "Even if we had to go back right now, it still would have been worth it." Now we say, "Ha! We're never going back!" This is our life now, and it has open our eyes and changed us so much that for us going back and sitting in a cubicle for 40+ hours a week is no longer an option. Living our lives on someone else's terms is no longer an option. Is this life for everyone? Maybe not. But we wouldn't have it any other way!