OJ Spritzer
When the weather starts heating up, an OJ Spritzer is the perfect thirst quencher for a lazy day under the awning reading a good book. Fresh orange juice really makes a difference so try to squeeze your own if possible. If you aren't able to squeeze your own, try to find fresh squeezed juice at your neighborhood market. Fresh Market has a fabulous one in the cooler of their produce section which I highly recommend.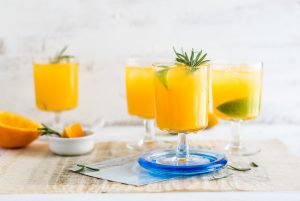 The basic spritzer ingredients are:
3/4 glass of very cold fresh-squeezed orange juice
1/4 glass of very cold club soda
Garnish of choice can include a slice citrus such as lime or orange, sprig of fresh rosemary or other favorite herb
Adults may enjoy a splash (or two…) of vodka or tequila.