Oscar Scherer State Park
Scroll to the bottom of the page to watch the Oscar Scherer State Park video!
Oscar Scherer State Park is an unexpected oasis just south of Sarasota, Florida. As a sanctuary for the Florida Scrub Jay, it is a bird watcher's paradise but also very popular with hikers and kayakers. The park also sits directly on the Legacy Trail and is an incredible site for cyclists of all kinds.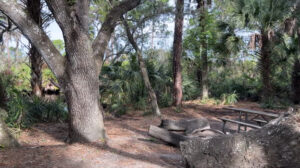 Amenities at Oscar Scherer State Park
104 RV Sites with Electric and Water for RVs up to 36'
Waterfront RV Campsites
5 Hot Water Bathhouses in the Campground for Registered Campers
1 Cold Water Bathhouse in the Picnic Facility
Laundry Facilities for Registered Campers
Kayak/Canoe Launch and Rentals
3 Picnic Pavilions with Large Charcoal Grills
2 Playgrounds by the Pavilions
Swimming Lake with Sandy Beach
Nature Center with Fun and Educational Exhibits
15 Miles of Trails in the Park
Direct Access to the Legacy Trail
Accessible Amenities throughout the Park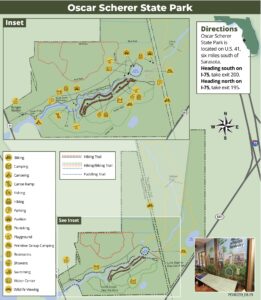 Activities at the Park
With almost 1,400 pristine acres nestled in the heart of the thriving South Sarasota town of Nokomis, there is plenty to do at Oscar Scherer. Bird watching is definitely a mainstay here as the park provides a protected habitat for the Florida Scrub-Jay, the only bird species unique to Florida as it does not migrate. The park hosts regular nature walks through the scrub to look for these charming birds as well as Bald Eagles, Indigo Snakes, and Gopher Tortoises to name just a few. There is a great nature center at the park for nature enthusiasts young and old to learn about the habitat and amazing animals, flora, and fauna of the area.
Another major claim to fame for Oscar Scherer is it's easy access to the amazing 18.5-mile Legacy Trail. The trail was previously a railroad line but has been paved over to create a gorgeous trail system loved by cyclists, joggers, and hikers. From Oscar Scherer, it is an easy bike-ride south to Venice or north to Sarasota with many trailheads along the way.
In addition to the Legacy Trail, there are 15 miles of trails of all lengths inside the park which are perfect for exploring the area. There is also a sandy beach and swimming lake but please keep an eye out for gators! Or have a picnic at one of the three pavilions which boast large charcoal grills and nearby playgrounds.
Water enthusiasts can take advantage of the kayak/canoe launch to explore and fish in both fresh and saltwater. No boat, no problem! The ranger station has both for rent!
Nearby Attractions
The beaches of Sarasota and Venice… NEED I SAY MORE? From the baby-powder fine sand at Siesta Key to shark-tooth hunting at Venice Beach, you definitely want to plan on spending some time hitting the sand and visiting a beachside restaurant for a taste of the Florida Gulf Coast.
For more information on Oscar Scherer State Park check out their webpage.  For RVing and RV Travel blogs, please visit our website blog. For our upcoming RV Shows check out our Show Homepage.
Please make sure to subscribe to our YouTube channel, FRVTA, for more videos on our amazing member Florida RV Resorts, State Parks, Attractions, Multi-Dealer RV Shows, and the annual Supershow!