Peacock Springs State Park
Florida's Wes Skiles Peacock Springs State Park offers turquoise waters and abundant trails that combine to create a paradise of adventure within this hidden state treasure. The park lies just two miles east of Luraville and 16 miles southwest of Live Oak in northern Florida. It is one of the most beautiful in the Sunshine State. RV camping enthusiasts touring Florida also owe it to themselves to visit and explore the park's many attractions before heading to their off-site public park RV campsites.
Peacock Springs State Park Cave System
In 2010, Florida renamed this gem of a state park to commemorate the work of the late world-class explorer, diver, photographer, and cinematographer Wes Skiles. The site is most famous for the near-pristine condition and quality of its underwater cave system, which features two major springs in addition to six sinkholes and a spring run. In all, more than 33,000 square feet of underwater cave passages at the park open up to cave divers, many of whom come from around the world to explore them.
Park Activities
Florida state parks are always welcoming places. The Wes Skiles Peacock Springs State Park offers many activities, including hiking and swimming in springs and the Orange Grove sinkhole, in addition to cave diving. Picnic areas with grills and pavilions exist throughout the park's 733 acres. Any park visitor intent on viewing and photographing Sunshine State wildlife in all its glory won't be disappointed in this park either.
Park Trails
No visit to the Wes Skiles park would be complete without a hike along the park's trails. While hiking on those trails, park visitors can see much wildlife, including beavers, otters, and blue herons congregating in wet areas. They can also learn from many interpretive exhibits, including a 1.2-mile long trail that provides an above-ground cave diving experience. This trail section offers a way to experience mapping an underwater cave system, all while staying above-ground and dry.
Park Amenities and Camping
Florida believes in providing amenities at its public parks, and the Wes Skiles Peacock Springs State Park is no exception. Pets are welcome at the park, and the site strives to be completely handicapped-accessible. Restroom facilities are also numerous and well-maintained in addition to being handicapped-accessible. Plenty of on-site parking is available, including for recreational vehicles. Unfortunately, there is no camping at this state park. Still, there are other public RV camping sites near Live Oak, including Suwannee River State Park in Live Oak, the Gibson Park Compound in Jasper, and Gilchrist Springs State Park.  Always check ahead of time for campsite availability when visiting any of Florida's many state and other public parks, though.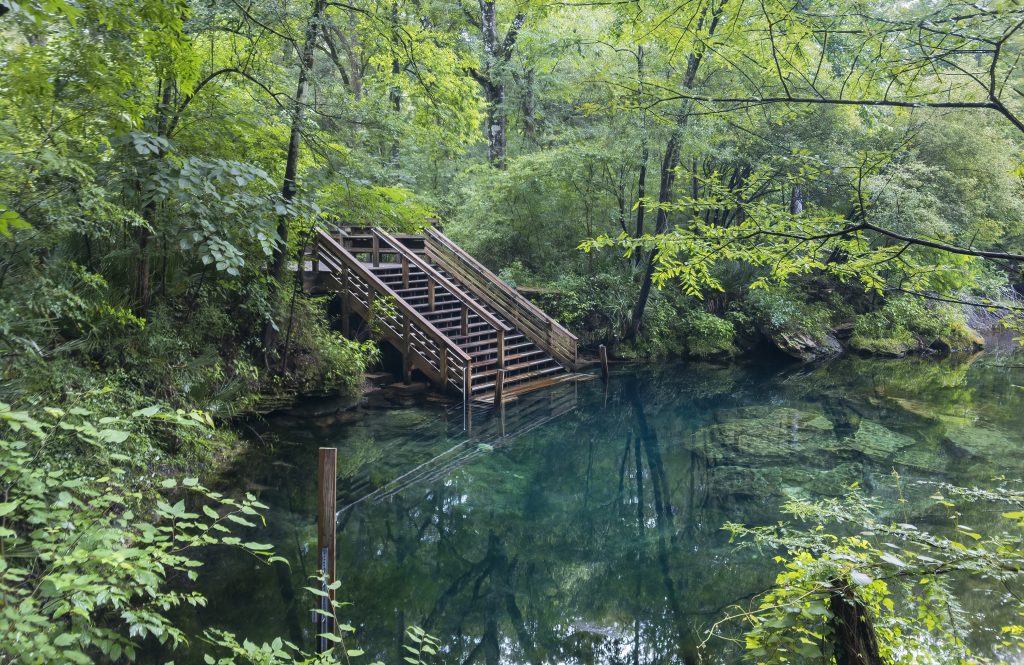 Fees and Hours
No Florida state park is expensive to enter, even if it features one of the world's most pristine and explorable underwater cave systems. The fee to enter the Wes Skiles state park is only $4 per vehicle, up to eight people per vehicle, upon entering. Payment is on the honor system, and there's a handy box at the park's entrance where you can pay (correct change, please). Pedestrians, bicyclists, and extra passengers over the eight-person-per-vehicle limit pay only $2 to enter the site. Hours at this state park run from 8 a.m. until sundown, and it's also open 365 days a year. If you plan on diving into the underwater caves, please finish up at least one hour before sundown.
Nearby Attractions
Once you've explored Wes Skiles Peacock Springs State Park, don't forget to check out nearby attractions around the Live Oak, Florida, area. In addition to Suwannee River State Park, Lafayette Blue Springs State Park also offers river adventures, picnicking, bicycling, hiking, rental cabins, walk-in tent camping, and a full-service campground. Suppose shopping after a day of exploring is your thing. Happily, there's a large outlet mall located in Live Oak. Numerous shops, stores, and restaurants are also within easy driving distance of the Wes Skiles park site.
Always Preplan
Florida is a top-rated tourist destination. Before heading to the Sunshine State, it's always a good idea to preplan by visiting Florida's various tourism and state park websites to get updates on fees and parking as well as just what park features are open at any given time. RVers intent on visiting the state and its parks and numerous other attractions will benefit significantly from preplanning their trip to achieve the best experience possible.
For more information visit the Peacock Springs State Park webpage on FloridaStateParks.org or call 386.776.2194.