The Perks and Pitfalls of Traveling with Pets
It has officially been over a year since we purchased our Class C RV, Maude, and started selling off our belongings. Although in the moment it may not have seemed to fly by, it sure does feel that way now. There have been so many amazing, enlightening moments throughout this journey, we still wouldn't change our lifestyle for anything else in the world.
But it isn't just two humans on this full-time adventure, we also have two dogs and three cats as well. That's right, you heard us correctly—five animals. Sometimes we joke about inadvertently starting a mobile petting zoo.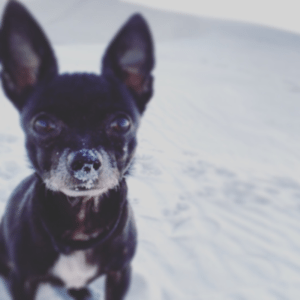 Traveling with pets can be quite daunting, especially when you're living in 171-square-feet of space. Ultimately, RVs aren't made to be animal friendly—the older RVs especially. The good news is, we made some adjustments in order to make our RV not only pet friendly, but also pet welcoming. We want our little family to feel like we do in the RV—like it's home.
The first order of business was to give the cats a space somewhere that they would feel safe and comfortable. Under one of the dinette benches, there was storage that could be accessed from inside the RV with a pull down door. We unscrewed the hinges to the door, and cleaned out the storage, which created a space around 4-feet long and 1.5-feet high. We spread out a soft blanket, sprinkled some cat nip, and voila, we created our very own cat cubby, which all three LOVE.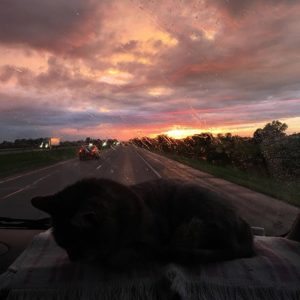 We eased our animals into the business of travel, by taking short trips at first. This gave the animals a chance to get used to the idea of perpetual travel. While the dogs rested in their beds and slept the trip away, the cats maintained residence in their dinette space, or on top of the dinette seats. One of our more adventurous cats, Moaky, prefers to sleep on our dash and get in some quality sunshine.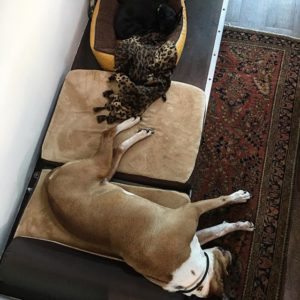 During our initial Maude mod, we took out the pull-out couch which fit snugly in our slide. At the time, it was way too big and bulky, and we wanted to play around with the slide space and see what we could come up with that was more our style, but also extremely functional. While we're in the midst of building a banquette for the space, it temporarily serves as a puppy paradise, with their beds and blankets inside.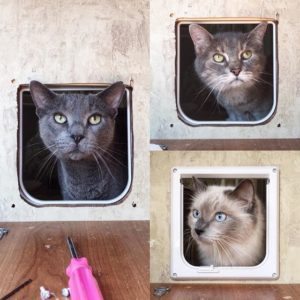 We also needed a place to fit a litterbox. At first, it was a temporary fixture in our shower, which needed to be moved every time we wanted a rinse—annoying. So, we mulled over some options and settled on building a cat door to one of our outside storage compartments. With just a few tools and a $19 pet door, we were able to put our litterbox in the storage compartment, which can be accessed from the outside when in need of a scooping. The cats love it.
Sure, with five animals living in the RV with us, things sure can get hairy, pun most definitely intended. Did we mention that Marisa is allergic to cats? Ahh, yes right, she is. To solve this problem, we've invested in a small shop vacuum, wet and dry, that we use daily, sometimes twice a day. That's right, we clean the RV daily, top to bottom. Sounds daunting, but it really isn't. Imagine how long it takes someone to clean their three bedroom, two-bathroom house. Now imagine if they only had to clean one room out of that entire house. Big difference, right? They would probably be thrilled to clean a little space in comparison.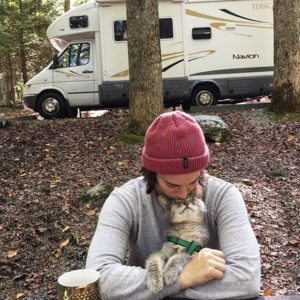 Traveling full-time with animals is not an easy feat. But we've grown more attuned to their needs, not only because they are underfoot and have no problem telling us when the water bowl is running low, but also because we realize living in an RV can be a bit limiting. Regular long walks have been incorporated for the pups to stretch their legs multiple times a day, plus we've invested in leashes and harnesses for the cats, which helps them roam a bit whenever we set up shop. However, some of the perks of traveling with our animals is watching them explore when we stop, smelling all the new smells, and being with them so much more than we were when we lived a stationery life.