Career Opportunities in the RV Industry
Whether you are a recent graduate searching for a prospective career, are looking for a new path due to limitations of your current position or a retiree looking for a part-time position helping others, the RV Industry provides many satisfying positions that will allow you to realize your strengths and prosper.  A career in the RV Industry isn't just a job – it's a lifestyle!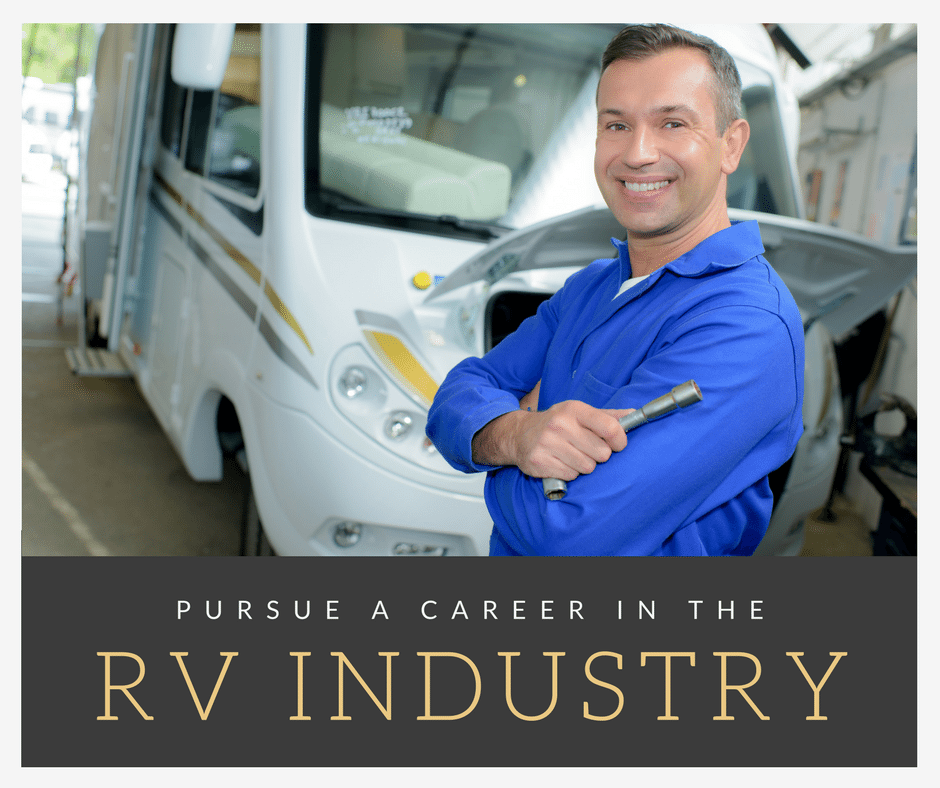 Benefits of a career in the RV Industry
The RV Industry provides numerous career opportunities from manufacturers and dealerships to supporting industries like parts suppliers, campgrounds and mobile service centers to name just a few.  The RV Industry in the state of Florida alone has over 1,200 RV businesses searching for qualified employees. There are numerous RV Dealership in Florida and most likely one very close to you!
RV Dealerships operate much like Automotive dealerships and provide the same basic career choices.  Unfortunately, it is a little known fact that the pay rates are traditionally much higher in a RV Dealership compared to an auto dealership due to the additional skill sets needed to effectively sell and service a RV or travel trailer.  To obtain this specialized knowledge, dealerships in the state of Florida and throughout the country have access to specialized training sponsored by the FRVTA and provided through a partnership between the RV Training Institute at Gateway College and the University of South Florida.
In addition to a frequently higher pay rate, a career in the RV Industry provides a high-degree of job satisfaction due to the nature of the business.  The industry is built on fun and helping customers realize their dreams of travel and adventure which creates a rewarding daily experience for everyone involved.  Dealership personnel frequently become trusted advisers for their customers from their first shopping experience through their years of travel with their new recreational vehicle or travel trailer.
RV Dealership Parts and Service Career Choices
Parts and Service departments provide many options from skilled trades to management and customer service depending upon your interests.  The shop is a great fit for people who are interested in technology, enjoy being an expert in their field and having a wide range of knowledge from water and propane systems to electronics and mechanics.  If you enjoy helping people and are attentive to detail, the parts and service departments may be a good option.
RV Service Technician
Shop Foreman
Service Manager
Service Advisor
Warranty Adminstrator
Parts Advisor
Parts Manager
Shipping and Receiving Clerk
Rental Coordinator
Rental Manager
Detailer
Lot Porter
RV Dealership Sales, Marketing and Finance & Insurance Career Choices
The Sales and Marketing departments of a RV Dealership offer many choices for individuals who enjoy helping customers make their dreams come true! This is a great fit for people who enjoy knowing all of the features about a product and the benefits to a prospective buyer.  If you love outdoor adventures, cool technology and talking with people, this may be the right direction for you.
Sales Advisor
Sales Manager
F&I Manager
RV Dealership Business Management and Accounting Career Choices
Love accounting or managing a business?  RV Dealerships offer the opportunity to excel in your field while enjoying an environment of fun and outdoor adventure.
General Manager
AR/AP Clerk
Comptroller
Finding a Job
The FRVTA offers a job placement board for local dealerships or you can reach out to the human resources department of local RV Dealerships.  Still searching, please feel free to reach out to the FRVTA for direction.