Florida RV Shows are the Best
Fall has come to Florida to kick off the start of our famous RV Show season! 
From the greatest RV Show in the world at the Tampa Fairgrounds to the regional multi-dealer shows held across the state, there is no doubt that when it comes to having fun and seeing RV's, Florida does it best! Whether you are a RV Nerd or a RV Dreamer, there are plenty of reasons to put down that mouse and head to a show to put your hands on the latest models and products.
1. Try One on For Size
Internet shopping is great if you already know exactly what you need. You can only learn so much from looking at photos and floorplans online, however; to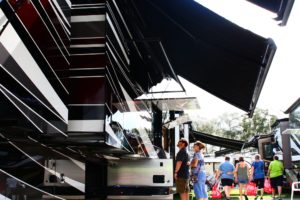 really understand what is going to work for you and your family you need to try it out. At an RV Show, you have the opportunity to pretend to cook a meal, play a game or take a shower to find the perfect fit for your family. This will be your new home-away-from-home so trying a lot of different options before making your final decision is a must.
2. Comparison Shopping at it's Best
If you are actively shopping for a motorhome or travel trailer, a RV Show is the best place to do so.  You will be able to see numerous models from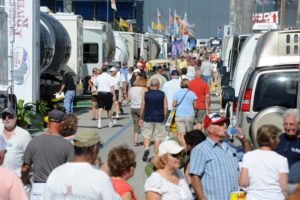 different manufacturers in one location saving yourself tons of time and expense. In addition, dealers offer great pricing at multi-dealer shows as they are competing with each other to earn your business. There are oftentimes even better financing rates offered at shows which allows you to add more features for the same investment!
3. Everything RV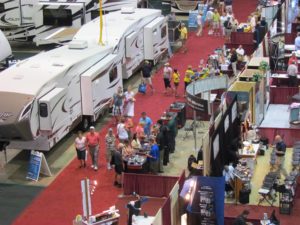 An RV Show is the best place to find answers to your questions about anything RV! There are numerous opportunities to speak directly to manufacturers, dealers, expert speakers and other RV'ers. Take advantage of the wealth of knowledge and com prepared with a list of your top questions.
4. RV Stuff!
Vendors bring all the cool gadgets and gizmos to RV Shows to entice you from 'must-haves' to 'didn't know it existed'! This is a great place to stock up on gifts for upcoming birthdays or holidays for every shopper on your list. Don't have an RV yet? No worries, there are nifty items even if you are still RV Dreaming!
See you there…
Make sure that you check out the Upcoming Shows regularly as we are constantly adding new shows onto the board. We also post the events on our FRVTA Facebook page – follow us for updates before during and after the shows. Hope to see you there!