RV Travel with Kids
Kid Approved,RV Lifestyle,Tips & Tools
The RV lifestyle isn't just for seniors enjoying their retirement. Today, many families find that there is nothing better than hitting the open road with their kids to enjoy a grand adventure. While an RV gives you the perfect set up for camping and road trips with your family, you also want to do a little extra planning to make sure that your kids have a good time. As you get ready to travel with your family, use these ideas to keep your kids happy and entertained every mile of the way.
Start With a Plan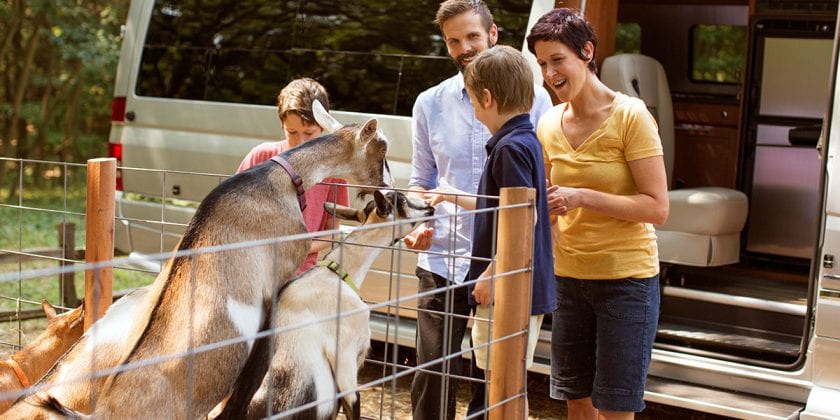 The very first thing that you need to do is make sure that the RV you plan to travel in is the right size for your group. Ideally, each person in your family should have a comfortable place of their own to sleep, and you want to make sure that there is enough room for everyone to spread out and enjoy the fun when rainy days keep you indoors. Before you head out, you can also look up campsites and plan your route to include a few roadside attractions along the Florida highways to keep things interesting. Remember that stops don't always have to be expensive or time consuming. Even a simple picnic in the public park gives everyone a chance to stretch their legs as you get ready to push on to your next destination.
Be Willing to Roll With It
Things happen on the road, and you need to be prepared for any scenario. Whether one of your kids springs a fever or someone falls into the creek, you can still make the best of any situation. Make sure that you have a contingency plan such as a brand new book to read as you snuggle with your ill little one, and always have plenty of dry clothing on hand. Often, these little moments become the legends that make up your family's history.
Plan Fun Indoor Activities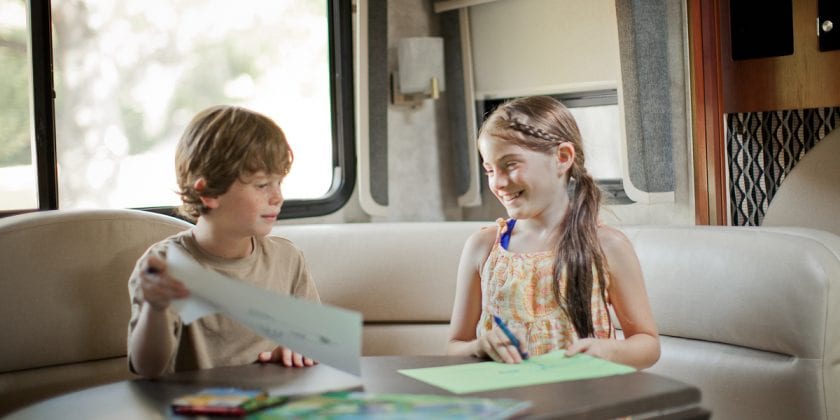 Naturally, you will need to bring lots of kids activities that can be enjoyed in the smaller space provided by the RV. For younger kids, these classics are sure to keep everyone happy.
coloring books
stickers
white boards
bubbles
building block sets
craft kits
For older kids, it may take a little more effort to draw them away from their electronics. However, these activities tend to be big hits among older children and teens.
board and card games
scrapbooks and journals
puzzles (use a rubber mat to keep pieces in place)
window watching with binoculars
road trip games such as license plate BINGO
Bring Along Some Games and Toys for Outside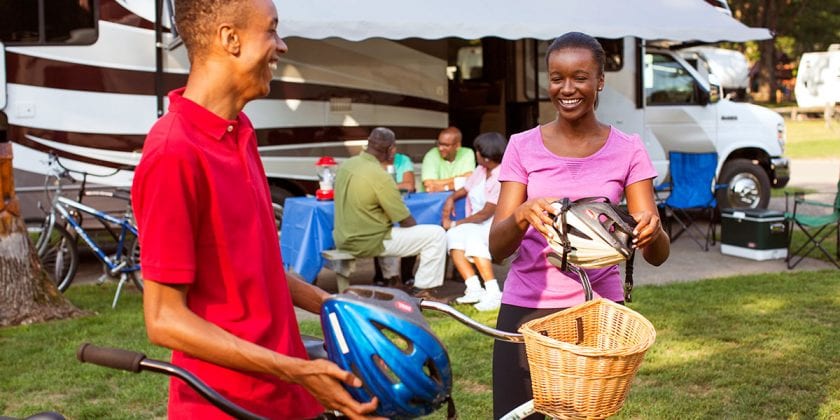 One of the best things about RV travel is that having an easy set up allows your family to instantly hit the ground running when you get to a campsite. Naturally, you'll want to bring along a few items to keep everyone happy while you explore the outdoors, and these are a few staples that all families should bring.
bicycles, scooters and quality hiking boots
easy set up games such as cornhole
science activities such as solar paper
flying discs and other sporting equipment
Know How to Find a Kid-Friendly Campground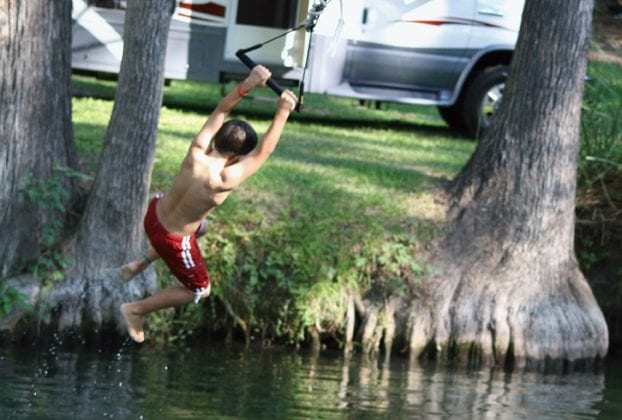 Kid-friendly campgrounds are located throughout the state. Yet, it does take some time to identify them from the beginning. Look for camping spots that make it easy to set up your RV and attach to any necessary hook ups. Family campgrounds also tend to have other features such as large amounts of space for kids to ride their bicycles, and there may be staff on site to make sure that everyone complies with the rules.
Help Them Document Their Adventures
The special moments that you share together having family fun deserve to be documented. When you get home or are spending time in the RV on a rainy day, help your kids start a scrapbook or photo album of all of their adventures. This way, they can look back one day and remember how they first fell in love with the RV lifestyle.
RV travel means that you will spend many hours together that you wouldn't get if you were all spread out in the rooms of your home. While it does take a little preparation to get everyone packed and loaded up, you can't deny the amazing things that happen once you are in the RV. From watching as your son demonstrates his ability to cook everyone breakfast to discovering your youngest daughter's knack for playing checkers, you'll all gain new insights into each other's personality while you travel. Now that you've got a few ideas in mind to keep your kids occupied, you can hit the road with no worries and a whole lot of time to have fun as a family.