Soulful RV Family's Epic Guide to New England
How can you enjoy an epic RV trip to New England with six kids in tow ages 4-14yrs old?  I will be honest and say that it will be a challenge unless you travel with Super Nanny.  However, I have some advice for the rest of you.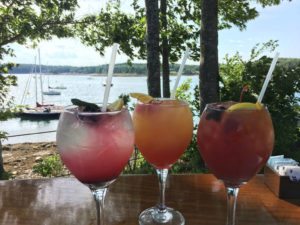 We recently returned from our visit to the New England area with our kids and a few cousins.  I must admit that we had a blast!  Allow me to serve you up a state-by-state menu of our experiences during our visit to 3 out of 6 New England states.
MAINE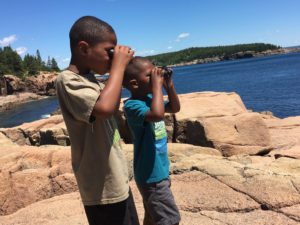 No trip to Maine is complete without a visit to Acadia National Park.  If this park is not on your bucket list, please stop reading and add it now.  We will wait for you.  If you are an outdoorsman like the man (& boys) in my life or not (like me!) it will not leave you disappointed.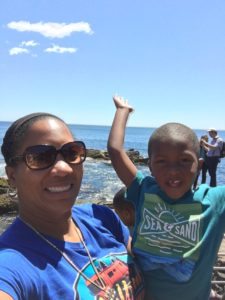 All ages will fall in love with the beautiful mountain top views, beaches, hiking, biking and picturesque qualities of this park.  The park itself offers free and frequent shuttles through the park, as well as a restaurant with the best hot popovers that I have ever had…don't' tell my mom.
The shuttles also provide service to the downtown area where we found a cute and tasty little ice cream shop that we frequented daily.  Mt. Desert Ice Cream Shop quickly became the kids' favorite spot.  They had great and creative flavors for the adventurous adult sweet seekers as well.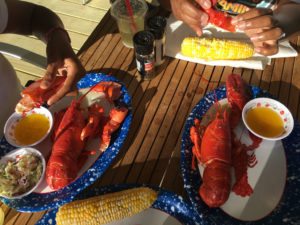 There are lobster…. or lobstah joints everywhere you turn.  Just pick one!  We actually enjoyed some of the best lobster in the area right at our campsite.  Yes!  The campground that we stayed at had a local fisherman bring his lobster catch of the day every evening to the campground.  Therefore, all we had to do is place our order and he would cook and serve it up to you while you wait.  Delicious!
Across from the capitol building in Augusta, Maine is a wonderful museum called the Maine State Museum.  We had just taken a tour of the capitol building and were about to head back to the campground when I noticed the museum across the walkway.  That was the best detour of the day! This little museum was packed with state specific history and all of the kids found it to be extremely interesting. 
Our boys loved to climb on the rocks by the shore, much to my dismay.  The Nubble Lighthouse in York, Maine was paradise for my boys both young and old.
CONNECTICUT
Lobster shall be the theme of any visit to New England, barring any life-threatening allergies of course.  As we traveled through the fine state of Connecticut, we were advised to stop by a small local joint call Skippers Seafood in Niantic, CT.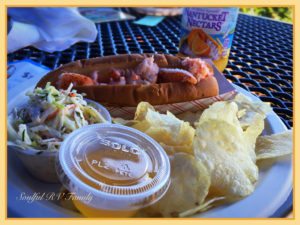 This is a place where you can sit on the deck, enjoy some fried seafood and a lobster roll while enjoying a view of the water across the street.  No, you will not be right on the water but you are still close enough to have that waterside feel.
After you have sufficiently satisfied your tummy, it would be a great time to settle down with a new (used) book.  There is one local haunt that will fit the bill-The Book Barn.  Also located in Niantic, they boast a collection of over 500,000 books in their four locations across Niantic. 
MASSACHUSETTS
Who can complete a trip to the New England area without stopping in Massachusetts?  The Cape Cod area is everything that it is billed to be.  We camped in Eastham, which placed us in perfect proximity to the Cape Cod National Seashore (US National Park).  The kids enjoyed walking the trails and working on earning their Junior Ranger Badges.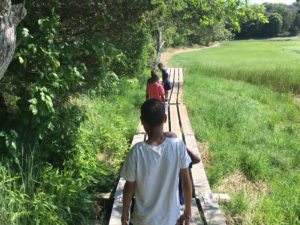 It was here that we enjoyed two of the best lobster rolls of the entire trip.  Arnold's Restaurant in Eastham, MA and The Knack in Orleans, MA are the subject of my dreams to this very day.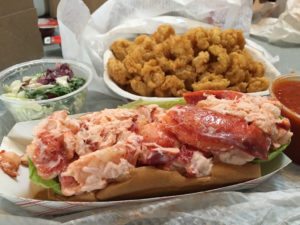 Arnold's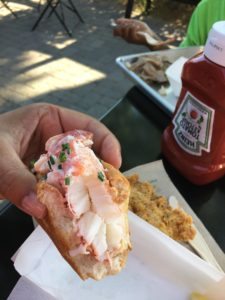 The Knack
Did you think that I would not mention Boston?  Boston is just one of those cities where all you have to do is open up your trip advisor app on your phone and choose a top pick.  There was so much to do and see that our family was only able to barely scratch the surface.  This area requires its own blog.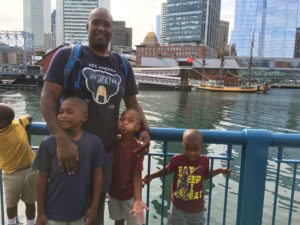 Everything that we did, we enjoyed and wanted to do them again.  Our little ones loved the hands-on activities at the Boston Children's Museum, which sits right on the harbor.  There are plenty of dining options in the area that offers an extensive variety ensuring you'll find something that fits your fancy.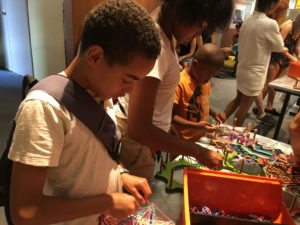 The Boston Museum of Science was in one word…amazing!  If the weather is permitting, go ahead and spring for the ticket to Ride the Ducks and please do not leave the area without walking the freedom trail with a guide.  The guides truly make all the history of the area come to life.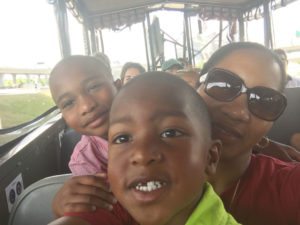 Just outside of the hustle and bustle of the city is the Minute Man National Historic Park in Concord, MA.  They offer great reenactments of the opening battle of the American Revolutionary War.  Our kids were all intrigued with the guides that were dressed in period clothing.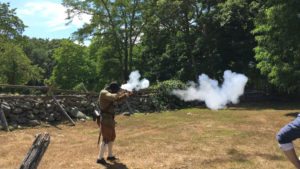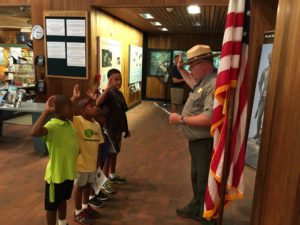 This is another park to earn Junior Ranger badges.    
Staying just outside of the city offers other little gems such as The Discovery Museums in Acton, MA.  The Discovery Museums consist of the Children's Discovery Museum (toddlers – early elementary) and the Science Discovery Museum (all ages).  They offer two museums for one admission price, as well as the access to the outdoor playscape area.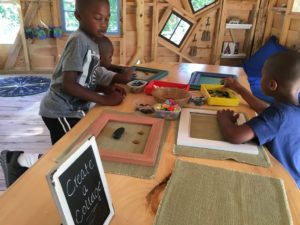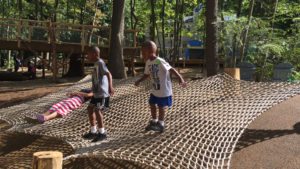 Last but certainly not least I must recognize a small kids consignment shop in Attleborough, MA.  Ju Ju B's – Zoolittle was a place that we found off the beaten path. Inevitably, you leave home and as soon as you get a few minutes into your trek, you realize that you have forgotten something.  Well, that is were this gem of a find came in handy. Thank you Ju Ju B's for making it affordable to purchase some much needed items for my boys!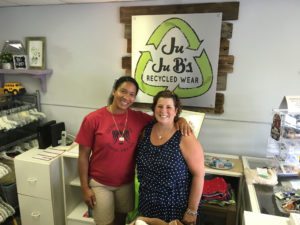 Whoa, that 's a lot of things we did and we barley scratched the surface of all that New England has to offer. Soulful RV Family will definitely be back soon!