Sweet Potato Black Bean Burgers
Camping is all about firing up the grill. It can be hard to find recipes for healthy alternatives to the typical grill-fare that are good for your heart and waistline. This recipe for Sweet Potato Black Bean Burgers is healthy and very easy to make, especially if you have a leftover sweet potato or two in your fridge!
Ingredients
2 large, cooked sweet potatoes, mashed
1 can of cooked black beans, drained
1 cup of oats
1/2 cup diced sweet onion
2 cloves of minced garlic or 1/2 tsp garlic powder
2 tsp Cumin
1 tsp Paprika
Salt and pepper to taste
Directions
If you don't have pre-cooked sweet potatoes in your fridge, you can quickly microwave them.  Pierce the sweet potatoes multiple times with a fork and place on a plate with 1/2 cup of water. Microwave until they yield to a gentle squeeze.  Typically this is about 7-10 minutes but can vary depending on the size of the sweet potato and the strength of your microwave. Scrape the insides out into a bowl.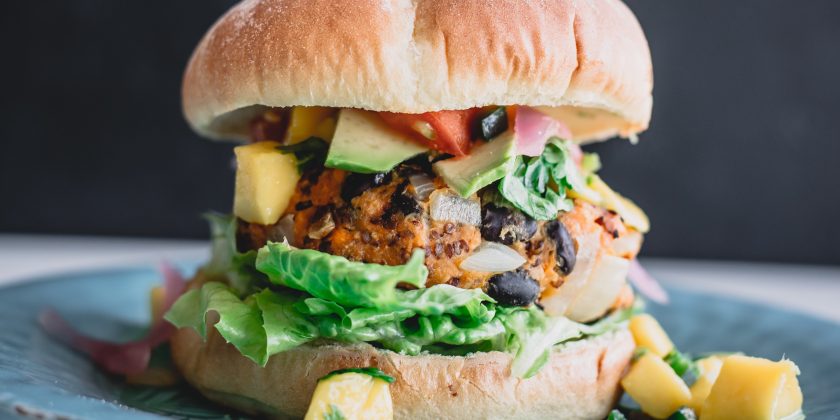 Strain the black beans and rinse until they no longer bubble (makes them less 'gassy'). Mash half of them along with the sweet potatoes. Stir in the remaining black beans, oats, garlic, cumin and paprika. Add salt and pepper to taste.
Form the mixture into patties.  Oil both sides of the patties then place a piece of oiled aluminum foil on the grill.  Cook at about 400° for 20 minutes then flip and cook an additional 10 minutes.
Serve on a toasted bun with your favorite condiments. I really like a pineapple salsa, avocado and lettuce with my Sweet Potato Black Bean Burgers but you can mix it up to taste!