Taking a RV trip back in time
We always try to mix education, history, with lots of fun when we plan our RV travel. This time, our trip was all about educating our children on the not-too-distant past of this country. Sometimes when you take a look back at history, it's a fun journey. In this case, it was an eye-opening, humbling, painful experience. Our RV trip to Selma Alabama changed us forever.   
When I heard about the annual bridge crossing in Selma Alabama, I had no idea how profoundly it would affect Tia and myself. We looked at it as a fantastic opportunity to combine a close to home RV get-away, with a chance to peer into the reality of race relations in this country just some 50 odd years ago.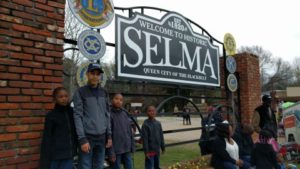 Boys ready for the Selma March
We have been to other African-American history sites as we have taken our RV around the country.  Often feeling deeply moved during those visits. But for some reason this trip to Selma was different. It doesn't matter if you're black, white, Latino, Muslim or any other nationality. This is a journey we all need to take. Standing in the crowd surrounded by thousands of people of many creeds, races, and varying backgrounds, we simply bonded. The only thing that mattered what was it we were there to remember "Bloody Sunday."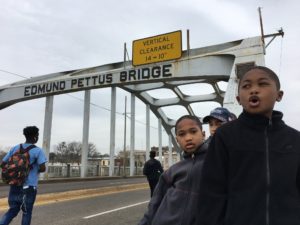 Boys exploring the Edmund Pettus Bridge before the Crossing
To me, those few days in Selma Alabama highlighted by Bloody Sunday may be some of the most impactful days in African American history. Truthfully those days impacted American history just as much.
I need you to understand this; you don't have to be a minority to appreciate the incredible courage and the unbelievable sacrifice that occurred on the Edmund Pettis Bridge that day.
History taught in schools can only review so much. It is truly up to us all as parents, and as citizens of this country to educate our children and ourselves. To us, the best way to understand our history is to explore and experience it firsthand. RV travel has unlocked an entirely new way for us to understand our country. Meeting a few "Foot soldiers," men and women who where there and made the march from Selma to Montgomery was amazing.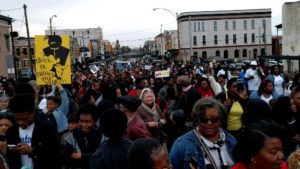 Crowd getting ready for the Bridge Crossing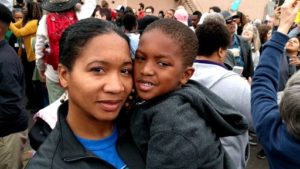 Tia and Justin take a break on Bridge Crossing
I personally want to thank all the Foot soldiers who 52 years ago, braved that cold March day in Selma Alabama. Listening to their first-hand personal experiences made those moments come to life. I'm not often speechless, but hearing the Foot Soldiers recount the carnage of that day left me searching for words.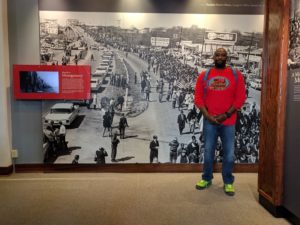 Selma Interpretive Center – NHP
We also took the boys to explore the history soaked city of Montgomery Alabama. That city has so many historical sites to visit; we would need another week even to scratch the surface of things to see.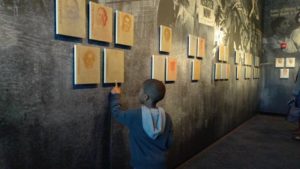 Justin reading the bios on the wall of Martyrs
The Civil Rights Memorial is a place for remembrance and reflection.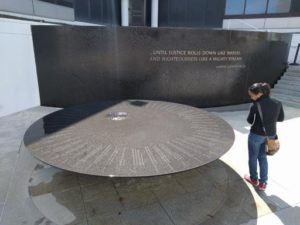 Maya Lin who created the Vietnam Vets Memorial designed this granite table
We also took a tour of the Alabama Capital building. We had an incredibly knowledgeable and charismatic tour guide. This is a must do if you are anywhere near the area.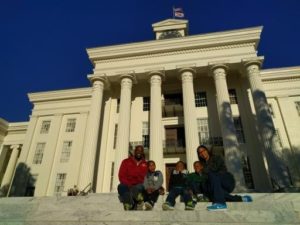 Enjoying the moment on the steps of the Alabama Capital
Not surprisingly, all that exploring made our boys very hungry. We had to visit the oldest family restaurant in Montgomery. Chris Hotdogs ' is the classic "hole in the wall." And I have to admit from the outside looks; we weren't sure if we would eat there. But it came so highly recommended, that we just had to try it to. And boy were the reviews right!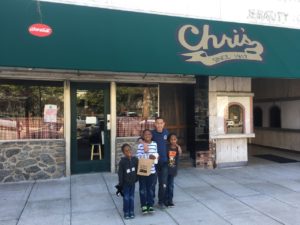 Out front of Chris hotdogs & Hamburgers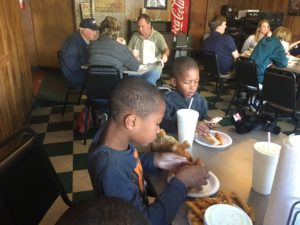 The boys didn't leave a single bite on their plates
We enjoyed some of the best hotdogs and hamburgers we have ever had. Now, they certainly weren't the healthiest, but they surely were good! Definitely, a must hit place if you're in Montgomery.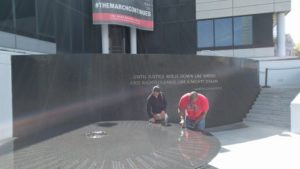 Records of the names of martyrs and chronicles the history of the Civil rights movement.
So if you're looking for a place to explore the Civil rights history of our great country, make sure you put Alabama on your list. It will be a place of learning and reflection.  This experience has changed us forever….
Keith and Tia Sims   
Soulful RV Fam