The Dali Museum
Housing the world-famous Salvador Dali Collection, the Dalí Museum in St. Petersburg is the largest collection of the Spanish artist's work outside of Spain.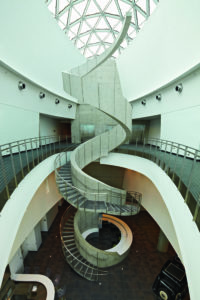 The Dalí Museum has been rated by the Michelin Guide as the top museum in the American South and by TripAdvisor as the #1 attraction in St. Petersburg. The new building, which opened on January 11, 2011, is itself a work of art, featuring a geodesic glass structure outside and a helical staircase inside as its architectural focus. More importantly, it allows for more of Dalí's art to be on display than ever before. Designed to house this priceless body of work, the building is listed in AOL Travel News as "One of the top buildings you have to see before you die."
The new Café Gala, named after Dalí's Russian wife and muse, offers Spanish-themed light fare with indoor and outdoor seating. The theater shows an orientation film and presents concerts and lectures. Children and adults can take classes or participate in making art and the Raymond James Community Room will host conferences, weddings and other private events.
The topmost floor of the new Dalí Museum comprises a landing with garden and water views along with the Collection Gallery, Special Exhibition Gallery and Education Gallery.
From inside the museum, each of the over 1062 distinct triangular galls panels offers a unique view of picturesque St. Petersburg. An exterior garden creates a tranquil learning environment, complete with a labyrinth for explorations and enjoyment.
Visitors can peruse an astonishing array of artful products in the Museum Store – with jewelry, books, shirts and posters and more that you cannot find anywhere else.
The collection itself comprises over 2100 works of art from Dali's earliest period through his late period and including surrealist works for which he is most famous. Each of the museums seven masterworks, including The Hallucinogenic Toreador and The Discovery of American by Christopher Columbus, are located in special salons each with skylights to allow natural light on the canvases.