Top 5 Reasons You Should Try Camping at the Florida RV Super Show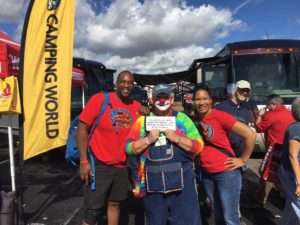 The Florida RV Super Show is a great place to explore and experience many different aspects of the RV lifestyle. This holds true whether your a seasoned RV'er or just interested in learning more about it. Here is a little secret, with so much of the country dealing with winters' grasp, January may be the perfect time to attend a RV show. That's because every January the best (to us) and the biggest RV show in the country opens its doors to welcome over 60k RV enthusiasts and wannabes. Yes, I'm talking about the Florida RV Super Show held at the Florida State Fairgrounds in Tampa, FL. This year's show runs from January 16th – 21st.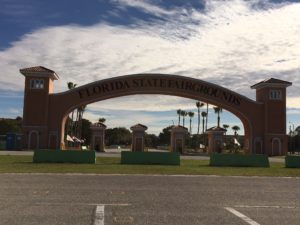 Not only is this the best RV show in the country, but did you know that you could camp right at the show? That's right, you can escape winter and shop over 1500 new RV's! Is there a better way to kick-start the New Year?
Here are our top 5 reasons you need to consider camping at the Florida RV Super show.
The Weather – Let's start with the weather. The January weather in Tampa is perfect with the average high temps reaching just below 70 degrees and the evening lows on the 50's. It feels like a winter paradise to travelers arriving from the frigid northern states. And for the Southerners, it's a welcome but of cooler weather to enjoy the outdoor event.
Having your RV right there with you – Having your home away from home with you is something that all RVers cherish. In fact, I would say we get a little spoiled by it. We love this part of camping at the Super Show. There are so many benefits to having your RV onsite. It helps us control our costs for the 4 days at the show. We can have most, if not all of our meals in our RV. My wife loves that part especially since our family has made the commitment to eat healthy.  You can enter and exit the Super Show unlimited times per day with a valid ticket. This is a lifesaver if you have younger kids with you that need a nap, or just a simple break from the show. We can get in the show early and then head to the RV for lunch and a much needed break for our feet.
Onsite Manufacturer rallies – Talk about killing two birds with one stone. We had the Florida RV Super Show on our list of things to do, but when we heard that there was a Newmar Rally onsite, it sealed the deal for us fours years ago. And we haven't missed a show since! Newmar is just one of manufacturers who host onsite rallies. Companies like Prevost, Entegra, and Forest River are just a few of the names that hold rallies. Some companies have created pre-show rally events like American Coach does each year at Lazy Days. They host their dinner as an annualized kickoff to the Florida Super Show. Many times, these rallies will feature company leadership and even service techs to do simple maintenance or repairs. We have enjoyed meeting and learning from fellow owners at these rallies.
No traffic to deal with – If you're the typical American, you get enough of traffic issues with a daily commute to work. Who wants the headache of dealing with thousands of RV fans pouring through the gate entrances each morning? Not me! When you are camping at the fairgrounds, it's just a simple stroll into the show each morning. And who hasn't forgotten something in the car and just dreaded the thought of having to go back to the car. That problem essentially gets eliminated by staying at the campgrounds.
It makes trading in or upgrading a snap – Ok, I know you aren't really in the market to buy a new RV and your just going to the show to "window shop". I get it. But what better way to convince yourself that you need the latest and great technology than to see it first hand at the show and then have to drag yourself back to your old tired RV? Not buying a new RV, but want to pick up that much needed accessory? What's better than having your RV there to test out your newest purchase? Heck, you might even convince them to install it as part of the sale.
Camping notes:
There are two options for onsite camping: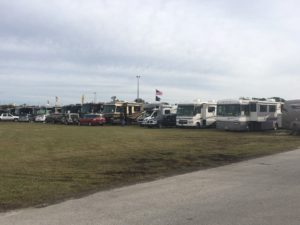 Rally camping – 4 nights of camping with 30 amp hook-up and includes admission to the show Wed – Sun for $200 (reservations required and recommended). Check with your manufacturer or RV Clubs who are sponsoring that rally for full details.
Dry Camping – first-come, first-served for $20 per night in general parking. Parking gates of the Florida State Fairgrounds will open at 7am daily beginning Wednesday Jan 17, 2018. You will pay a parking fee of $6 per car or $12 (cash only) per RV upon arrival for show hours. Once you are at the admission window, you can purchase an additional overnight parking permit for $20 a night to stay in the parking lot for any number of nights you desire.
See you at the Show!     SOULFUL RV FAMILY