Warren Cave Nature Preserve
Cave Exploring and RV Camping
If exploring caves and RV camping is something you love, visiting the Warren Cavern Nature Preserve must be on top of your list for vacation ideas. There is no RV Camping at the preserve but abundant nearby state parks provide great camping and natural spring experiences.
Warren Cave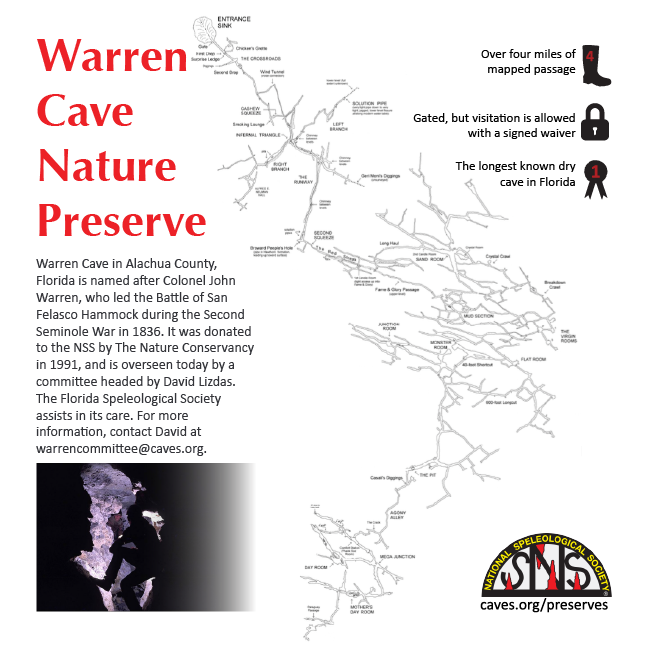 Located in Alachua County, Florida, the Warren Cavern Nature Preserve is home to Warren Cave. Considered a karst cave, Warren Cave is the longest known dry, air-filled cave in Florida, with a mapped passage of over 4 miles. It is an unimproved cave with no safety-improvements including walkways, stairs, railings, or lighting so only experienced spelunkers should attempt the adventure.  Experienced cavers must contact the National Speleological Society to sign a waiver to gain entry into the gated cave. Warren Cave is undeveloped with no featured walkways or handrails. It boasts some very tight and long passages, including one known as the Red Streak.
Wildlife at Warren Cave Nature Preserve
Inside the Warren Cave, you might run across the endangered blind crayfish. The blind crayfish, considered rare, has not been seen for several years, but look out for it while visiting this cave.
Bats were once abundant but are now seen infrequently in the cave.
Around the Warren Cave Nature Reserve, you may see various wildlife such as deer, bobcat, armadillo, turkey, raccoon, small rodents, frogs, snakes, cottontails, to name a few. The bird populations in the area are quite varied because of the diversity of plants present.
RVing Near the Warren Cave Nature Preserve
There are plenty of incredible state parks for you to park your RV while visiting Warren Cave. Paynes Prairie Preserve, O'Leno, Mike Roess Gold Head Branch, Ruth B. Kirby Gilchrist Blue Springs, Silver Springs, and Manatee Springs state parks are less than an hour away and welcome RVs.
State Parks to Consider Camping In
Two great places to camp near Warren Cave are Paynes Prairie Preserve and O'Leno state parks.
Once you have explored Warren Cave and all the nature preserve has to offer, head over to Paynes Prairie Preserve. This unique state park gives visitors the experience of wild-roaming horses and bison, something you cannot find anywhere else in Florida. Most of the park's RV sites offer 30-amp electric service, but 50-amp service is available in a few. There are restroom facilities with hot showers that are ADA accessible in the campground. If you are traveling with pets, well-behaved dogs are welcome and must stay on a 6-foot leash. Pets are not allowed in park buildings, bathing areas, or playgrounds.
Experiences and amenities available include fishing, geo-seeking, bicycling, hiking, horseback riding, paddling, picnicking, campfire circles, interpretive exhibit, and playgrounds. Be sure to include time to enjoy everything this state park has to offer. With eight park trails and a 50-foot observation tower offering panoramic views, you will stay busy enjoying the scenery. The visitor center is open daily from 9 a.m. to 4 p.m.
O'Leno State Park is another state park that will dazzle you with all it has to offer. Plan to camp for the night or enjoy a more extended stay in your RV. O'Leno State Park, located along the banks of the Santa Fe River, is one of Florida's first state parks, developed in the 1930s by the Civilian Conservation Corps. There are two camping loops with 61 campsites. Campsite sizes vary with a maximum RV length of 50-foot. Electrical hookups for RVs are between a 30-amp and a 50-amp. Well-behaved pets are welcome in some areas of the park and must stay on a handheld 6-foot leash or shorter.
Visitors can enjoy biking, hiking, or beautiful walks on the park's nicely shaded trails. Or perhaps you would prefer fishing along the banks of the Santa Fe River or canoeing downstream. There is also a small museum dedicated to the history of the Civilian Conservation Corps and their involvement in creating the park.
Part of the Great Florida Birding and Wildlife Trail, O'Leno State Park offers visitors incredible opportunities to bird-watch. Bird enthusiasts can expect to see quite a variety of birds during their visit.
Florida has so much to offer when planning your vacation. Be sure to include Warren Cave Nature Preserve and one of the many RV camping facilities nearby on your bucket list of top vacation spots.
Interested in more? Check out our blog on our Top 7 Florida Caves!