Castillo de San Marcos
Explore the Castillo de San Marcos While RVing in St. Augustine, Florida
While RV camping in St. Augustine, the Castillo de San Marcos is often number one on the list of top spots to explore. The oldest masonry fort in the continental United States, the Castillo, is on the western shore of Matanzas Bay in St. Augustine, Florida. Spain built the Castillo in the late 17th century to defend St. Augustine against British forces and pirates.
Built to Defend
When nine forts, built of wood, were burned by invaders, the Spanish militia constructed a masonry fort that would be nearly indestructible. A sizeable Spanish fortress built of coquina, a stone-like compound created from limestone and shell, impenetrable to fire and enemy attack.
Protecting the Spanish in St. Augustine
Construction of the fort took 23 years and began in 1672. The Castillo, never taken over in a battle, played a profound role in protecting the people of St. Augustine during the 1700s into the late 1800s.
The English attacked the city in 1702 and burned St. Augustine to the ground, but the star-shaped castle survived. The Castillo, never taken by force, was eventually claimed by England and later taken over by America via treaty.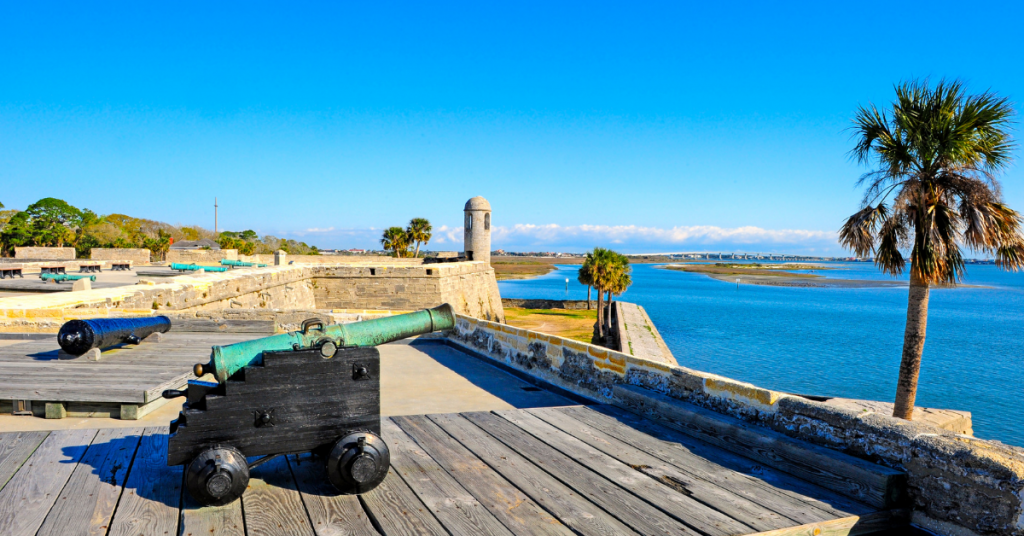 A National Monument
Known then as Fort Marion, President Calvin Coolidge declared the Castillo a national monument in 1924.
One of the Most Visited Historic Sites in St. Augustine
Built by the Spanish to protect the town, it is now, over 300 years later, one of the most often visited historic sites in St. Augustine, Florida. A popular attraction in St. Augustine, it offers regular daily programs, museum exhibits, and ranger-led tours. There are also cannon firings and weaponry demonstrations on Fridays, Saturdays, Sundays, weather and staffing permitting. The Castillo is open daily except on Thanksgiving and Christmas.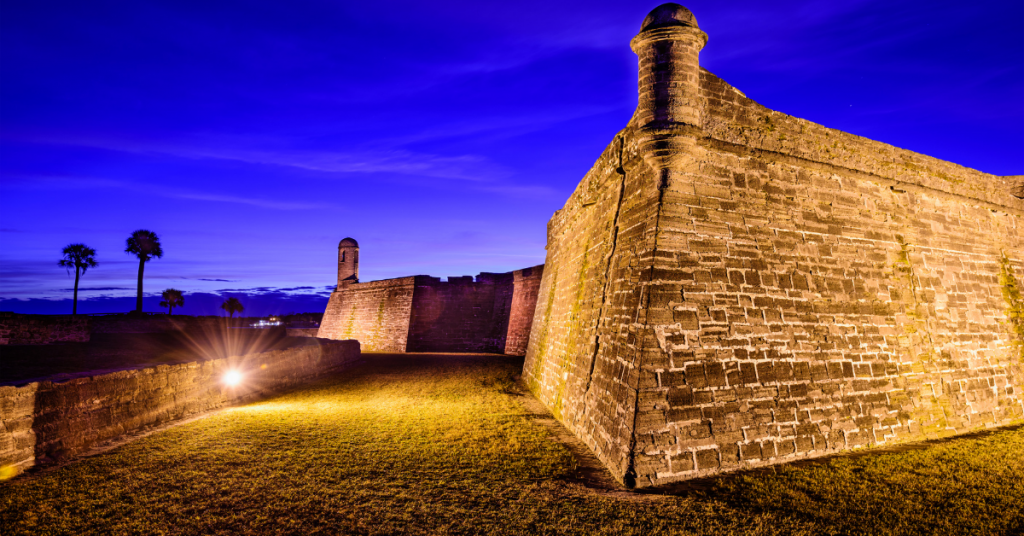 RVing Near the Castillo
While you cannot camp on the Castillo grounds, there are state parks nearby. What better way to relax after a day of sightseeing at the Castillo than to settle around a friendly campfire? There are some incredible state parks near the Castillo offering RV campsites, all waiting for you to make memories.
Anastasia State Park
Anastasia State Park offers 139 campsites on over 1,600 acres of unspoiled beaches, ancient dunes, maritime hammocks filled with captivating wildlife, and both exciting and relaxing activities. Enjoy swimming, surfing, biking, shelling, paddling, geo-seeking, fishing, picnicking, and hiking during your stay.
All campsites have electricity, water, a fire ring, an in-ground grill, and a picnic table. Pets are welcomed by following the park's pet policy. For those with young campers, ages 4 to 9, Anastasia offers a Bedtime Story Camper Lending Library with picture books.
Faver-Dykes State Park
The Faver-Dykes State Park features 30 campsites, each with electricity, water, a grill, a picnic table, and an in-ground fire circle. Your well-behaved pets are welcome to camp with you. You can make reservations up to 11 months in advance.
Hot showers and ADA-accessible restrooms are available. Other amenities open to visitors include a fishing dock, pavilions, a children's play area, and nature trails.
Faver-Dykes State Park has four nature trails to enjoy, the Picnic Area Nature Train, the Campground Nature Trail, the Pine Loop Trail, and the Hiram Faver Trail. Each offers a unique brand of beauty to explore.
Planning Your Next Florida Vacation
St. Augustine, Florida, offers so much to its visitors. There is something for everyone to love with its rich history, incredible beaches, captivating wildlife, and nature views. Be sure to include it in your RV camping travel plans this year and make the Castillo a priority destination.
For more information on the Castillo de San Marcos, visit their webpage on the nps.gov or call 904.829.6506.