Lake Louisa State Park
Scroll to the bottom of the page to watch the Lake Louisa State Park video!
Florida is an RV enthusiast's dream. With over 50 RV-friendly state parks, it's a welcoming place for couples, families, and groups of friends to explore. Although less famous than the coastal parks, Lake Louisa a little gem of an escape just outside Orlando perfect for RV campers.
Lake Louisa State Park
Part swamp, part hill, and several parts lake, Lake Louisa State Park is an accessible pocket of wilderness for enthusiasts of all stripes to enjoy. Contrary to its name, this park actually has three lakes, and they host a range of wildlife that includes bald eagles, ospreys and bobcats. It's a great place for RV camping, situated between major attractions, but still remote enough for campers to soak up some nature. Roadtrippers following the Florida Turnpike should consider stopping for at least one or two nights.
RV Camping
RV camping here is comfortable, easy and fun. Campsites include water and electricity hookups along with centralized facilities – like showers and a dump station. There's also a grill and picnic table at each site, making it easy to enjoy the fresh air and evening sounds of Florida's wildlife. The campsites also have fishing piers, so the family angler can enjoy the sunset with a cooler and a line in the water.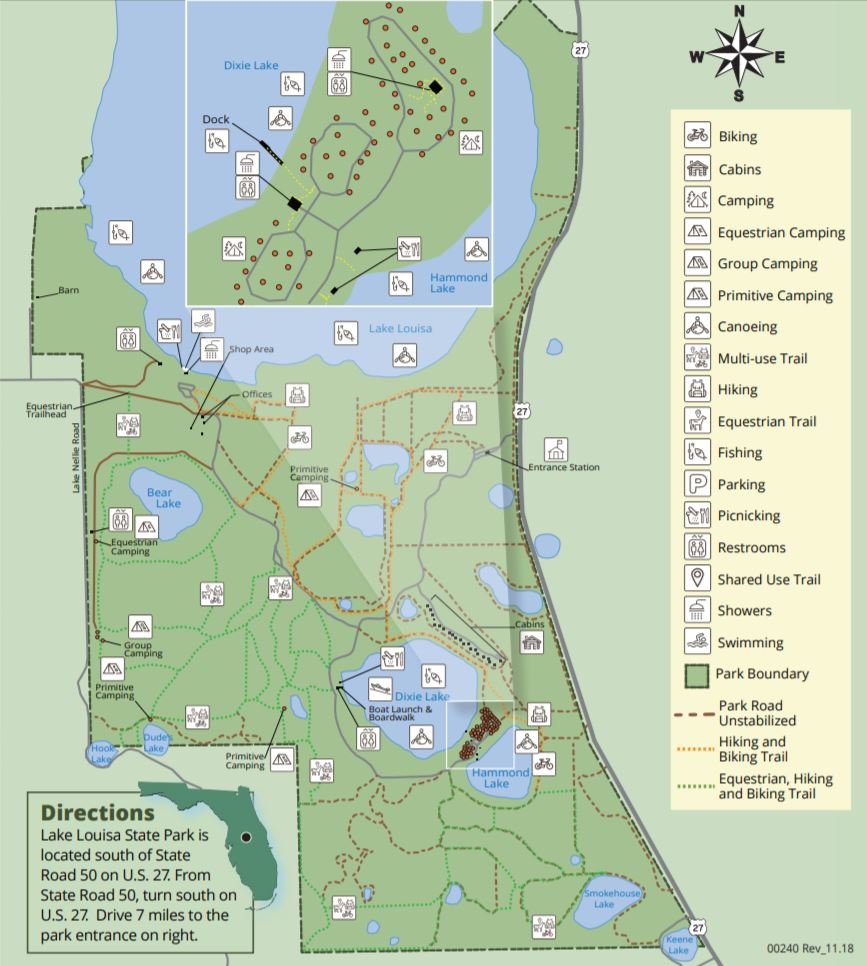 What to Do in the Park
With so much water, it's only natural that the park features a boatload of watersports. Kayaking and canoeing are the most popular, but there are also paddleboards for rent. Naturally, there are designated swimming areas for a cool dip on a hot day, or a cool dip on a cool day if that's your preference.
There are around 27 miles of trails in the park, seven paved and 20 unpaved. They're great for cyclists, hikers, and photographers who want to get closer to nature. Geo-caching and horseback riding make for adventurous escapes from the everyday, too.
Attractions Near the Park
There are two major types of tourist destinations near the park. First are the natural beauties. Only a few miles away is the sweeping conglomeration of the Green Swamp Wilderness Preserve, Richloam Wildlife Management Area and Colt Creek State Park. The Hilochee Wildlife Management Area is directly south on 27.
The man made attractions should sound familiar. Orlando is less than 20 miles away, with the Universal theme park even nearer. The city's attractions, including Disney, make a great stop for families after a tour of Florida's natural wonders. The theme parks are in day-trip range, which makes them potentially more affordable and offers groups with mixed interests a variety of options for separate adventures. While some enjoy looking for bobcats during a leisurely paddle in a kayak, kids in their teens and twenties can scream their excess energy away on a few roller-coasters.
Visiting Tips
The nuts and bolts of camping at the park are pretty simple. The state park is open from 8 am until sundown 365 days a year, but obviously, this curfew doesn't apply to the campground areas.
The more the merrier! Save on admission by loading up your vehicle. All vehicles with 2-8 people have a $5 entrance fee, while single occupant cars have a $4 fee. Additional passengers and pedestrians should be ready to pay a $2 entrance fee. Camping costs $24 per night, and that includes water and electricity.
Want to bring the family dog? Pets are welcome in the family camping area and on the trails so long as they're kept on a 6 ft. or shorter leash and mind their manners. Owners must pick up everything their pets drop, and unfortunately pets are not currently allowed in park buildings.
The best parks don't have to be big and flashy. They don't even need an ocean view to be memorable. In this pocket of natural splendor, it's easy to make great memories over the grill and along the lake shore.
Fore more information, visit the Lake Louisa State Park webpage on floridastateparks.org or call 352.394.3969.